COMPARATIVE ANALYSIS OF TRANSLATIONS OF THE SEVENTH BOOK OF PLATO'S " " WITH THE ORIGINAL TEXT. POLYVARIATIVITY OF FORM AND MEANING
Keywords:
Plato, Political system, the myth of the cave, enlightenment, translation
Abstract
An appealing to original texts, a comparing linguistic variations in the forms of their offsprings (translations), a research of processes of branching of meanings, a reconstruction of the first-sense of texts, and especially those that were created centuries ago in ancient languages, that is enabling to improve translation or understanding of the history of the mentality of native and modern na- tive speakers — will always be relevant for any philological, linguistic and philosophical studies.
This article is an attempt to analyze and show how different the form and meaning of the same text can be in different languages and what can be common between different translations. For the first time, the comparison of the original fragments of Plato's "The Republic" in Ancient Greek with their translations into Japanese and Korean translations has been done. Also, some fragments of Lithuanian, Latin, Latin and English translations are included.
For the analysis, I propose the following two fragments of the text of the seventh book, namely the replica numbered 514a-514b of the dialogue of Socrates with Glaucon and the rep- lica numbered 517b-517c. After all, in my opinion, there is the greatest concentration of philo- sophical terms associated with the myth of the cave, which interests me.
References
Bloom, A. (1991). The Republic of Plato. S.l.: BasicBooks.
Kassin, B., Sigov, K. (2009), European Dictionary of Philosophies. Volume one [In Ukrainian]. Kyiv: Dukh i litera. [=Кассен, Сігов 2009]
Luksti , G. (1980). Platons. Valsts. R ga: Zvaigzne.
Manuel, G. (2018). Bollettino di Studi Latini. Napoli: Periodico semestrale d'informazione biblio-
gra cafondato da Fabio Cupaiuolo. Retrieved from: https://www.academia.edu/34587998/ Machina_mundi_significato_e_fortuna_di_una_iunctura_da_Lucrezio_alla_tarda_antichit%C3%A0_in_Bollettino_di_Studi_Latini_XLVIII_1_2018_pp._10-34
Nagata, H. (1991). History of Japanese philosophical thought. [In Russian]. Moscow: Progress. [=Нагата 1991]
Plato (1713). Platonis de republica... versionem emendavit ... vol.2. Webster: Typis Academicis. Apud Tho. Retrieved from: https://books.google.com.ua/books/about/Platonis_de_republica
Plato (2013). Republic, Volume II. S.l.: Harvard University Press.
Platon (1877). Civitas Liber Septimus. Aus einer griech.-latein. Paris: Platon-Edition von Carolus
Ernestus Christophorus Schneider. Retrieved from: https://webcache.googleusercontent. com/search?q=cache:vRgatS7mRC0J:https://www.edugroup.at/fileadmin/DAM/eduhi/ data_inhalt_eduhiatdl/PLATO_Hoehlengleichnis.doc+&cd=1&hl=uk&ct=clnk&gl=ua Platonas (2000). Valstyb . VII knyga. Vilnius: Pradai.
Sobolevskii, S. (2013). Ancient Greek language. [In Russian]. St. Petersburg: Universitetskaia kniga. [=Соболевский 2013]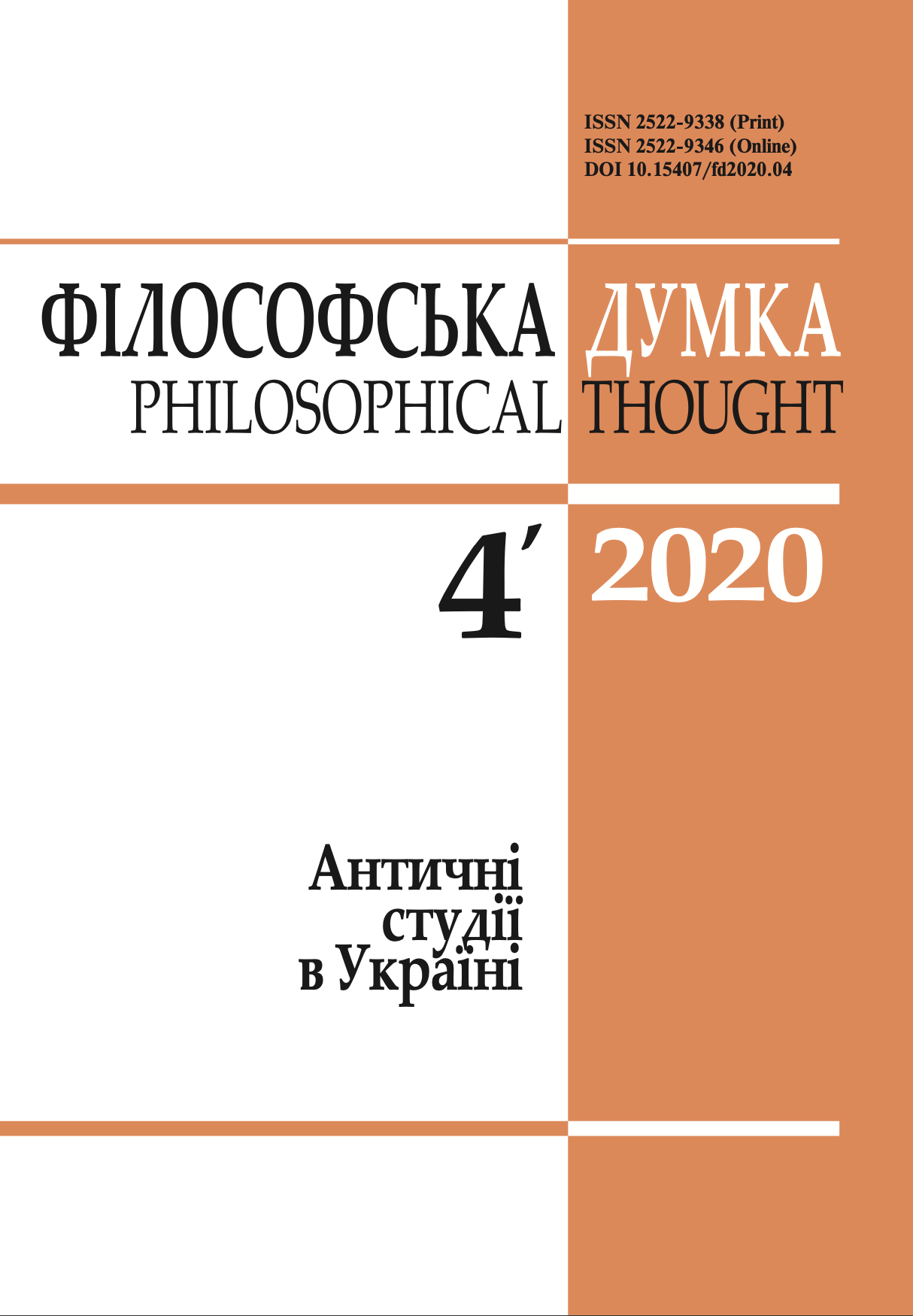 Abstract views: 213
How to Cite
Samsonenko, M. (2020). COMPARATIVE ANALYSIS OF TRANSLATIONS OF THE SEVENTH BOOK OF PLATO'S " " WITH THE ORIGINAL TEXT. POLYVARIATIVITY OF FORM AND MEANING. Filosofska Dumka, (4), 50–59. https://doi.org/10.15407/fd2020.04.050
Section
TOPIC OF THE ISSUE
License
Authors who publish with this journal agree to the following terms:
Authors retain copyright and grant the journal right of first publication.
Authors are able to enter into separate, additional contractual arrangements for the non-exclusive distribution of the journal's published version of the work (e.g., post it to an institutional repository or publish it in a book), with an acknowledgement of its initial publication in this journal.
Authors are permitted and encouraged to post their work online (e.g., in institutional repositories or on their website) prior to and during the submission process, as it can lead to productive exchanges, as well as earlier and greater citation of published work (See The Effect of Open Access).