POLITICAL POPULISM AND POPULAR CULTURE
POLITICAL PHILOSOPHY
Keywords:
popular culture, political populism, types of populism, media, sign representation
Abstract
The article provides a comparative analysis of the cultural practices of political populism and the popular culture. The leading role of the media in the formation and promotion of popular movements and leaders is emphasized. There is a difference in the understanding of a leader's charisma that brings new values, according to Max Weber, and the pseudo-charisma of modern populist leaders that is created by their regular presence in the media. Populist politician is seen as a sign in cultural communication, where the politician's personality is put as the signifier, and the ideology that the politician promotes — as the signified. Based on this analysis, three ideal types of populists have been identified: a blank sign that is focused on the present and represents populists without ideology; a sign that is oriented on the past and represents a populist national ideology; the sign that is oriented on the future and represents the reformers, the bearers of new social values. Theoretical approaches to the interpretation of popular culture are analyzed and it is pointed out that a mass society emerging is necessary both for the phenomenon of popular culture and for political populism to perform the quantitative indicator of public preferences. Common characteristics in the functioning of popular culture and populism are revealed — symbolism, emotionality, "origin from people", resistance against the system. The decisive role of the media in cultural communication for both popular culture and political populism is emphasized. However, there are significant differences between popular culture and political populism. Popular culture has its own values, while political populism uses values of others. Comparing popular culture and its impact on culture in general on one hand and political popularization and its impact on the political system on the other, a scrutator could expect for some renewal and diversification of current political institutions that would be a positive factor for the global political system and global society.
References
Beime, K. (2008). The political theories of modernity. [In Ukrainian]. Kyiv: Stylus.
Bart, R. (1989). Imagination of the sign. [In Russian]. In: Selected works. Semiotics. Poetics (pp. 246-252). Moscow: Progress.
Weber, M. (1998a). "Objectivity" of socio-scientific cognition. [In Ukrainian]. In: Sociology. General historical analyzes. Politics (pp. 192-263). Kyiv: Osnovy.
Weber, M. (1998b). Three pure types of legitimate domination. [In Ukrainian]. Sociology. General historical analyzes. Politics (pp. 192-263). Kyiv: Osnovy.
Guzhva, A. (2018, September). Free man and the limits of solidarity. [In Ukrainian]. In: H.S. Sko- voroda's creativity as a metatext of Ukrainian culture. In memory of Myroslav Popovych: ma- terials of 26 Kharkiv International Skovorodyniv Readings, (pp. 292-295). Kharkiv: Maidan.
Guzhva, A. (2011). Parade as a secularized ritual. [In Russian]. Practical Philosophy, 2, 171- 177.
Yermolenko, V. (2018). Liquid ideologies. Ideas and politics in Europe of the XIX-XX centuries. [In Ukrainian]. Kyiv: Duh i litera.
Kiyanka, I.B. (2019). The modern aspect of populism in the context of ideological norms. [In Ukrainian]. Democratic governance: scientific bulletin, 1 (23). Lviv: LRIDU NADU. Retriev- ed from: http://dv.lvivacademy.com/article/view/181480.
https://doi.org/10.33990/2070-4038.23.2019.181480
Liutyi, T. (2019). Mass and popular culture: the problem of demarcation. [In Ukrainian]. Scien- tific notes of NaUKMA. Philosophy and Religious Studies, 3, 85-99.
https://doi.org/10.18523/2617-1678.2019.3.85-99
Pierce, C.S. (2000). Logical foundations of sign theory. [In Russian]. St. Petersburg: Laboratory of Metaphysical Research at the Faculty of Philosophy, St. Petersburg State University; Ale- theia.
Fukuyama, F. (2020). Identity. The need for dignity and the policy of resentment. [In Ukrainian]. Kyiv: Nash Format.
Shcherbak, S. (2020). Populism from the perspective of political philosophy. [In Ukrainian]. Philosophical thought, 3, 61-78.
https://doi.org/10.15407/fd2020.03.061
Borja, A.L. (2020). Neither Shadow nor Spectre: Populism as the Ideological Embodiment of the Democratic Paradox. Theoria: A Journal of Social & Political Theory, 67 (162), 45-70.
https://doi.org/10.3167/th.2020.6716203
Brubaker, R. (2017). Why populism? Theory and Society, 46 (5), 357-385.
https://doi.org/10.1007/s11186-017-9301-7
Debord, G. (1996). La société du spectacle. Paris: Gallimard.
Hall, S. (1973). Encoding and decoding in the television discourse. Centre for Cultural Studies, University of Birmingham: Manuscript.
Hall, S. (2009). Introduction. In: Representation: cultural representation and signifying practices (pp. 1-12). London: SAGE Publications; Thousand Oaks: The Open University.
Halvik, V. (2019). Technocratic Populism and Political Liberalism in Central Europe. Problems of Post-Communism, 66 (6), 369-384.
https://doi.org/10.1080/10758216.2019.1580590
Lutovac, Z. (2020). Populism and the Defects of Democracy in Serbia. Horizons: Journal of International Relations and Sustainable Development [Special Double Issue: The Populism Issue], 15, 192-205.
Mazzoleni, G. (2008). Populism and the Media. In: Twenty-First Century Populism: The Spectre of Western European Democracy (pp. 49-64). Basingstoke England; New York: Palgrave Macmillan.
https://doi.org/10.1057/9780230592100_4
Mcluhan, M. (2001). Understanding Media: The extension of Man. London; New York: Routledge Classics.
Müller, J.-W. (2017). Was ist Populismus? Ein Essay. Berlin: Suhrkamp.
Rego, C. (2015). Under the Spell of Populism: Popular Culture and Intellectuals in Brazil. Studies in Latin American Popular Culture, 33, 164-178.
https://doi.org/10.7560/SLAPC3311
Storey, J. (2018). Cultural theory and popular culture: an introduction. London; New York: Routledge.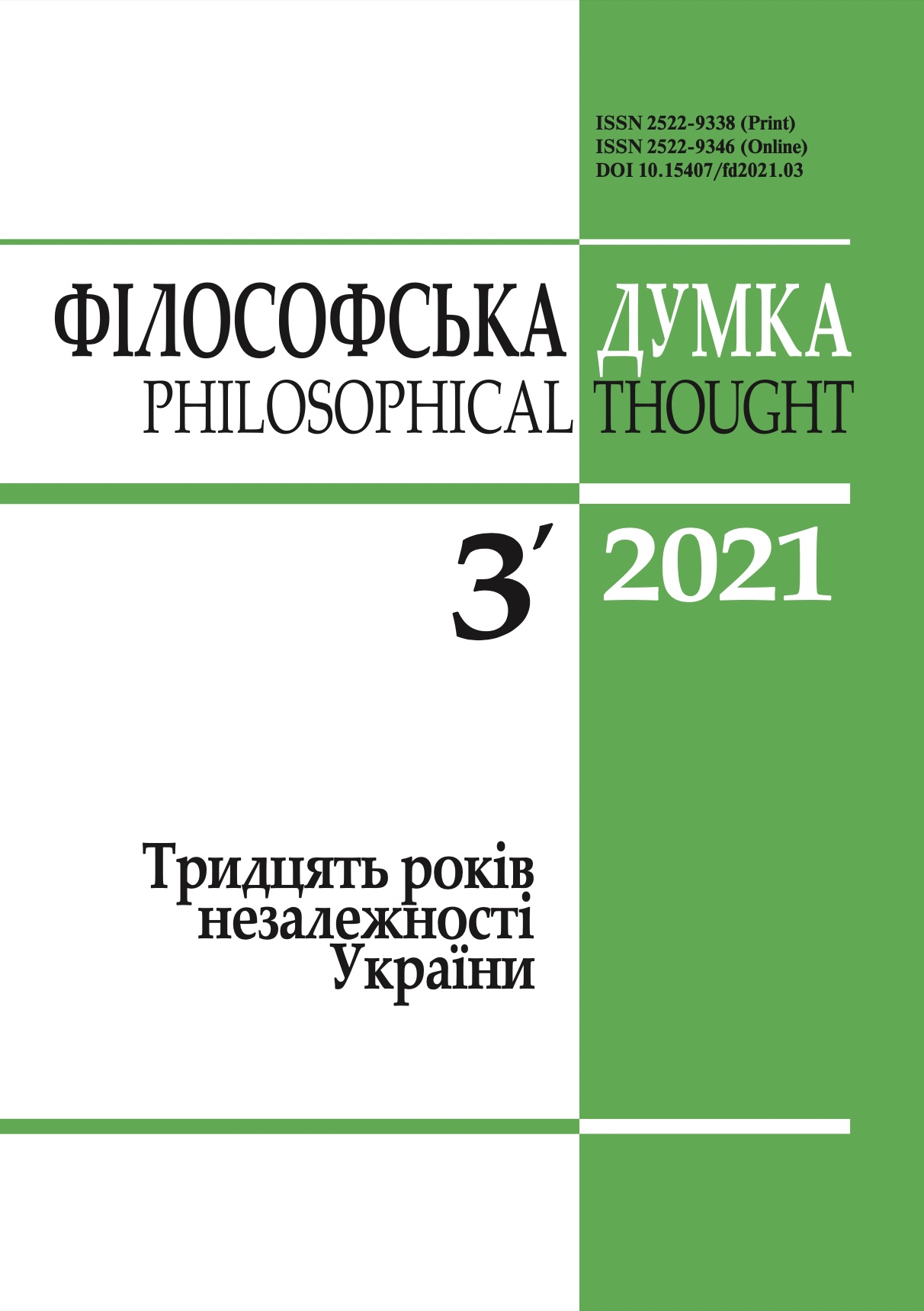 Abstract views: 174
How to Cite
Guzhva, A. (2021). POLITICAL POPULISM AND POPULAR CULTURE: POLITICAL PHILOSOPHY. Filosofska Dumka, (3), 125–137. https://doi.org/10.15407/fd2021.03.125
License
Authors who publish with this journal agree to the following terms:
Authors retain copyright and grant the journal right of first publication.
Authors are able to enter into separate, additional contractual arrangements for the non-exclusive distribution of the journal's published version of the work (e.g., post it to an institutional repository or publish it in a book), with an acknowledgement of its initial publication in this journal.
Authors are permitted and encouraged to post their work online (e.g., in institutional repositories or on their website) prior to and during the submission process, as it can lead to productive exchanges, as well as earlier and greater citation of published work (See The Effect of Open Access).