WITNESSING AS AN ALTERNATIVE APPROACH OF RELIGIOUS TRUTH. A COMMENT ON RAWLS'S IDEA OF COMPREHENSIVE DOCTRINES
JOHN RAWLS'S POLITICAL PHILOSOPHY
Keywords:
witnessing, religious truth, comprehensive doctrine, authoritarianism, intolerance, background culture, proviso, pluralism, Charles Taylor, modernization theory
Abstract
The paper offers a critical examination of the term 'reasonable comprehensive doctrines', which is a key term in Rawls's Political Liberalism. It is argued that this term is not accurate anymore to catch the current shape of religious and secular worldviews and the nature of their truth claims, because it focuses too much on the doctrinal character of religious truth, which plays a central role in Christianity but not in many other religions and secular worldviews. However, sociologists of religion and philo- sopher Charles Taylor have pointed out that a shift in people's attitude towards religion has been taking place since the last decades of the twentieth century, resulting in a more existential and less doctrinal approach to religious truth. This focus on 'lived religion', inspiring the faithful put their lives in the sign of (the truth of) these doctrines, explains why Rawls's doctrinal approach falls short of expectations in finding a response to the challenge of religious pluralism. Yet, in the conclusion of this paper it is shown that Rawls also values witnessing as an alternative, more existential approach to religious truth, although it plays a rather marginal role in his work.
References
Jonkers, P. (2015). A Reasonable Faith?: Pope Benedict's Response to Rawls. In: T. Bailey, V. Gentile (Eds.), Rawls and Religion. New York: Columbia University Press.
https://doi.org/10.7312/bail16798-011
Jose, J.S. (2022). Religion and Radical Pluralism: A Critical Analysis of Rawls's Public Reason and Gandhi's Stance. [s.n.]
Rawls, J. (2005a). Political Liberalism. Expanded Edition. New York, Columbia University Press.
Rawls, J. (2005b). The Idea of Public Reason Revisited. In: J. Rawls, Political Liberalism. Expanded Edition. New York, Columbia University Press.
Rawls, J. (2005c). On My Religion. In: J. Rawls, Political Liberalism. Expanded Edition. New York, Columbia University Press.
Rawls, J. (2009). A Brief Inquiry into the Meaning of Sin & Faith (with "On My Religion") / Ed. by Th. Nagel. Cambridge MA: Harvard University Press.
https://doi.org/10.4159/9780674054486
Taylor, Ch. (1989). Sources of the Self. The Making of the Modern Identity. Cambridge: Cambridge University Press.
Vallier, K. (2014). Liberal Politics and Public Faith: Beyond Separation. London: Routledge. Vroom, H. (1989). Religions and the Truth. Philosophical Reflections and Perspectives. Grand Rapids MI: Eerdmans.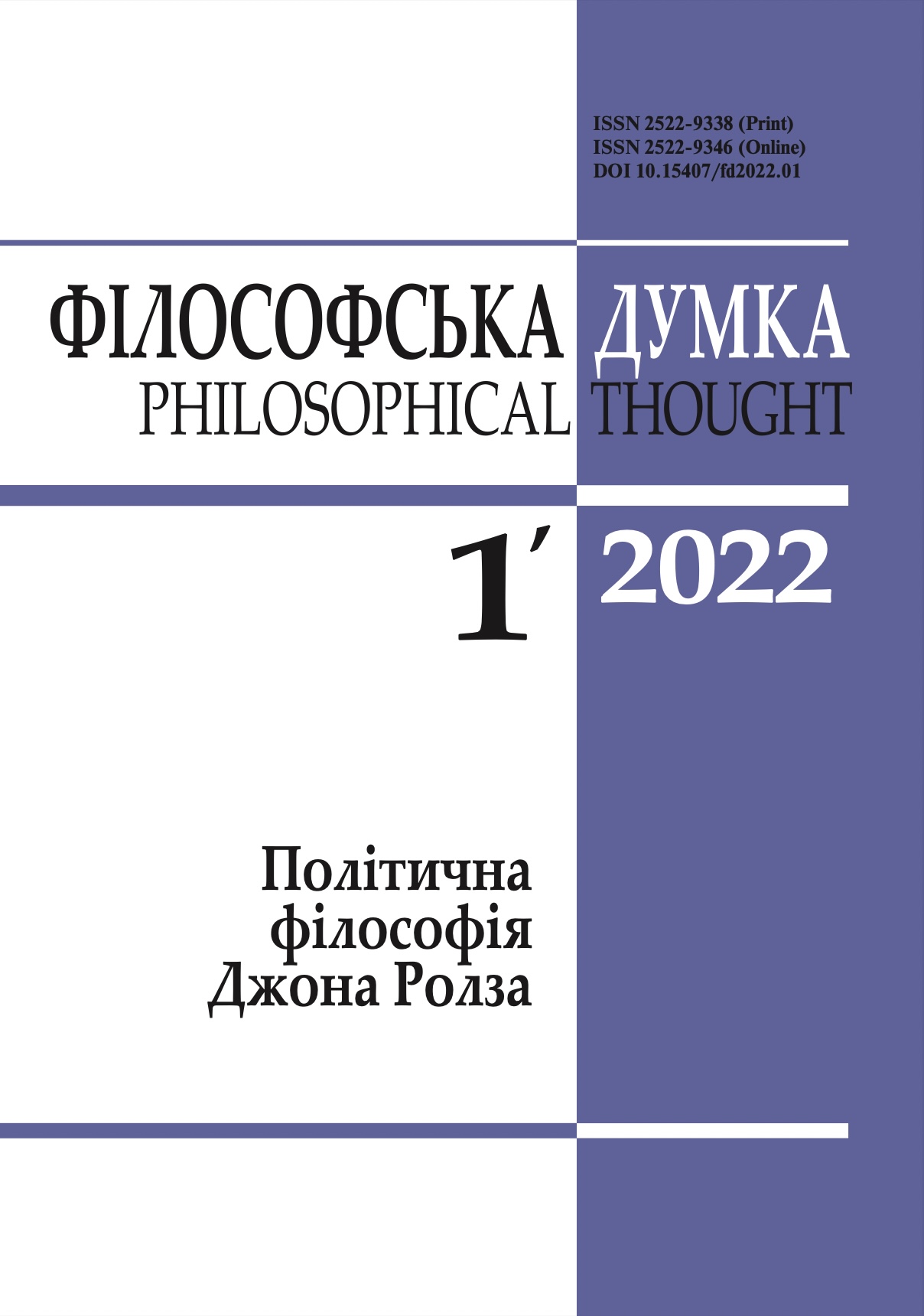 Abstract views: 90
How to Cite
JONKERS, P. (2022). WITNESSING AS AN ALTERNATIVE APPROACH OF RELIGIOUS TRUTH. A COMMENT ON RAWLS'S IDEA OF COMPREHENSIVE DOCTRINES: JOHN RAWLS'S POLITICAL PHILOSOPHY . Filosofska Dumka, (1), 36–43. https://doi.org/10.15407/fd2022.01.036
Section
TOPIC OF THE ISSUE
License
Authors who publish with this journal agree to the following terms:
Authors retain copyright and grant the journal right of first publication.
Authors are able to enter into separate, additional contractual arrangements for the non-exclusive distribution of the journal's published version of the work (e.g., post it to an institutional repository or publish it in a book), with an acknowledgement of its initial publication in this journal.
Authors are permitted and encouraged to post their work online (e.g., in institutional repositories or on their website) prior to and during the submission process, as it can lead to productive exchanges, as well as earlier and greater citation of published work (See The Effect of Open Access).