JOHN RAWLS: THE PAST AND PRESENT OF A MORAL AND POLITICAL THEORY
JOHN RAWLS'S POLITICAL PHILOSOPHY
Keywords:
Rawls, Romania, contemporary politics and society, justice, democracy, dialogue, citizen
Abstract
When John Rawls' A Theory of Justice was published in 1971, it brought a strong, inspiring, and refreshing creative impetus in Anglo-Saxon philosophy. Since then, Rawls' work has been criticized on several grounds, mainly related to its Kantian formalism. However, ideas and theories are not born and do not exist in a social and political vacuum. Read in different historical contexts they can reveal new meanings and deliver specific messages, which are tailored to specific audiences and political cultures. I argue in my paper that, reflecting this reality and my own life experience, Rawls' concep- tion of justice and of a well-ordered society always remains actual. An important part of this actuali- ty is revealed in the manner in which the theory inspired Romanian society in its post-communist search for models of citizenship. It is also revealed by the message it delivers to today's divided and polarized societies, where solidarity has been corroded by neoliberalism and a sense of fairness and reasonableness has been weakened by an increasingly noxious agonistic spirit.
References
Rawls, J. (1982). Social Unity and Primary Goods. In: A. Sen, B. Williams (Eds.), Utilitarianism and Beyond (pp. 159-185). Cambridge: Cambridge University Press.
https://doi.org/10.1017/CBO9780511611964.010
Rawls, J. (1999). A Theory of Justice. Cambridge: The Belknap Press of Harvard University Press.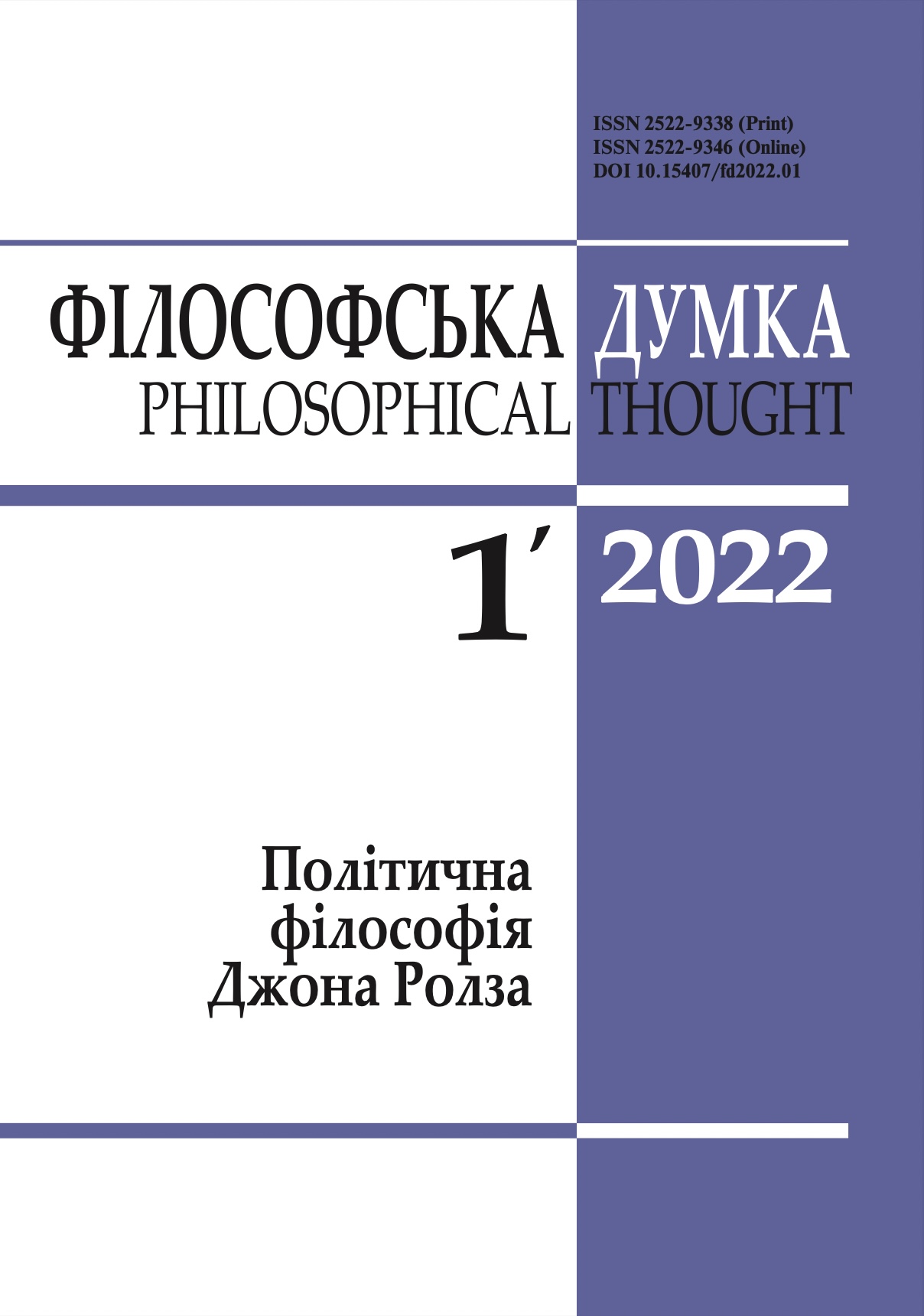 Abstract views: 110
How to Cite
CZOBOR-LUPP, M. . (2022). JOHN RAWLS: THE PAST AND PRESENT OF A MORAL AND POLITICAL THEORY : JOHN RAWLS'S POLITICAL PHILOSOPHY. Filosofska Dumka, (1), 44–50. https://doi.org/10.15407/fd2022.01.044
Section
TOPIC OF THE ISSUE
License
Authors who publish with this journal agree to the following terms:
Authors retain copyright and grant the journal right of first publication.
Authors are able to enter into separate, additional contractual arrangements for the non-exclusive distribution of the journal's published version of the work (e.g., post it to an institutional repository or publish it in a book), with an acknowledgement of its initial publication in this journal.
Authors are permitted and encouraged to post their work online (e.g., in institutional repositories or on their website) prior to and during the submission process, as it can lead to productive exchanges, as well as earlier and greater citation of published work (See The Effect of Open Access).