Dimensions of poetic world of Taras Shevchenko
Keywords:
metaphysics, metaphor, myth, authoritarism, carnival
Abstract
Shevchenko is presented as a poet-thinker who operates with the words of metaphysical sense: Word, Fate, Will, Good, Truth, etc. They reflect mythological notions of broad strata of Ukrainian people which live in their language and oral folk poetry. Simultaneously these words evidence for the poet's own personal world-view search, which is extremely complicated, painful and audacious. The question is in God-seeking and seeking for religious liberty, being urgent for the present time as well. Shevchenko's metaphysics is a prism through which the poet observes and analyses socio-political reality. The real world is recreated by the poet through art deformations, being the peculiarities of Shevchenko's poetics, the poetics of carnival in particular.
References
Бодріяр Ж. Симулякри і симуляція. — К., 2004.

Єфремов С. Шевченко // Історія українського письменства. — К., 1995.

Лотман Ю.М. Об оппозиции «честь» — «слава» в светских текстах киевского периода // Лотман Ю.М. Избранные статьи : В 3-х т. — Таллинн, 1992. — Т. 2.

Петров В. Естетична доктрина Шевченка. До поставлення проблеми // Арка. — Мюнхен, 1948. — № 3-4.

Сирцова О.М. Філософсько-світоглядний зміст апокрифічних ремінісценцій у поетиці Т.Г. Шевченка // Творчість Т.Г. Шевченка у філософській культурі України. — К., 1992.

Скуратівський В. Шевченко в контексті світової літератури // Всесвіт. — 1978. — №3.

Тынянов Ю.Н. О литературной эволюции // Литературный факт. — М., 1993.

Франко І.Я. Зібрання творів : У 50-ти т. — К., 1983. — Т. 39. — С. 255.

Чижевський Д. Історія української літератури. — Тернопіль, 1994.

Grabowicz G.G. The Poet as Mythmaker. — Cambridge (Mass.), 1983.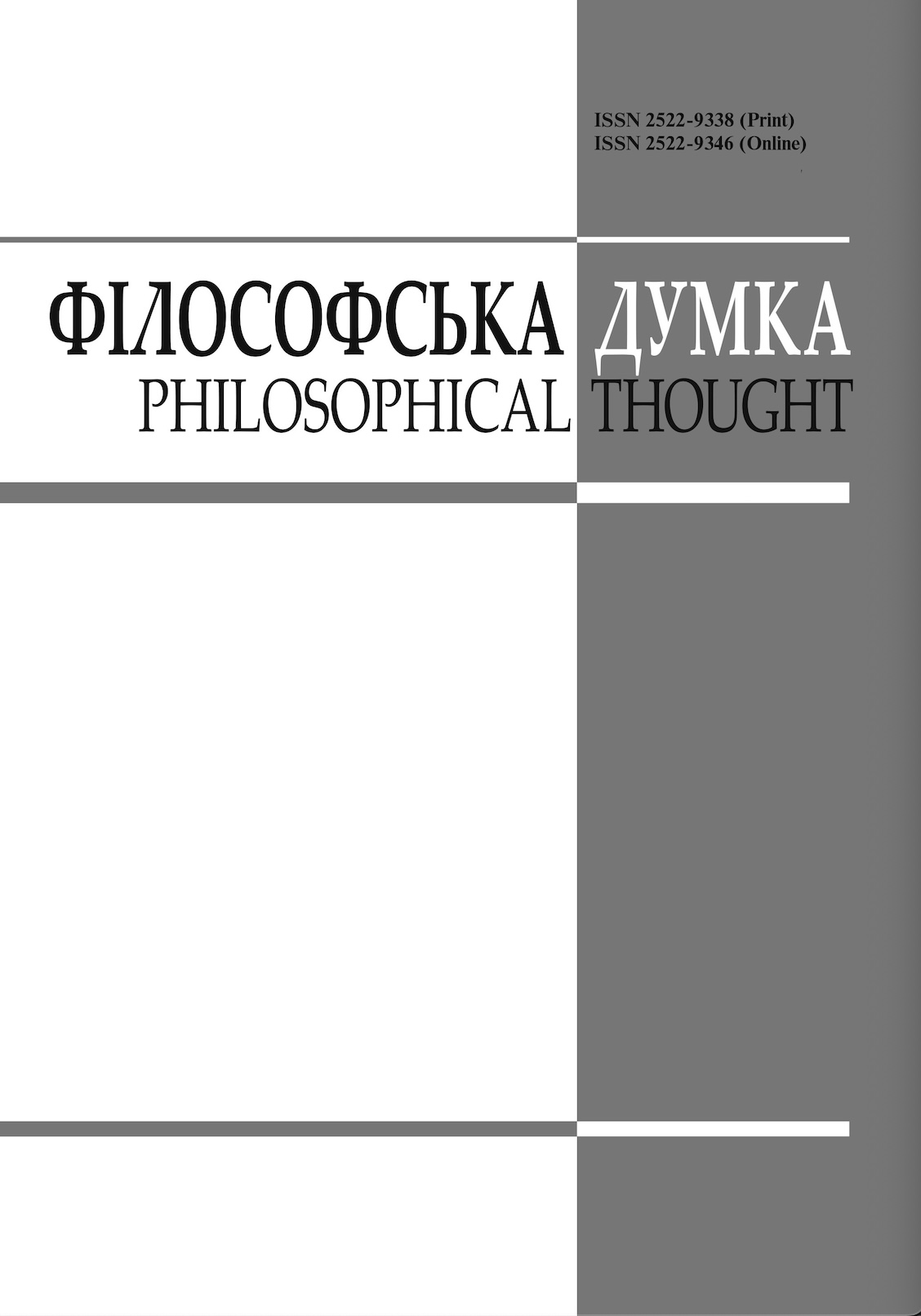 Abstract views: 214
How to Cite
Klymchuk, V. (2017). Dimensions of poetic world of Taras Shevchenko. Filosofska Dumka, (1), 24–42. Retrieved from https://dumka.philosophy.ua/index.php/fd/article/view/88
License
Authors who publish with this journal agree to the following terms:
Authors retain copyright and grant the journal right of first publication.
Authors are able to enter into separate, additional contractual arrangements for the non-exclusive distribution of the journal's published version of the work (e.g., post it to an institutional repository or publish it in a book), with an acknowledgement of its initial publication in this journal.
Authors are permitted and encouraged to post their work online (e.g., in institutional repositories or on their website) prior to and during the submission process, as it can lead to productive exchanges, as well as earlier and greater citation of published work (See The Effect of Open Access).