Skovoroda's interpretation of the moral teachings of Cicero and Plutarch
Keywords:
Skovoroda, Cicero, Plutarch, stoic philosophy
Abstract
In the letter to colonel S.I. Teviashov, which accompanied his free translation of Marcus Tullius Cicero's (stoic philosopher of the 1st century B. C.) work "On Old Age" Skovoroda puts the stoic conception of happiness in the context of his own conception of heart, stating, that "the life is such as the heart", and the heart is "the precise man in man" and "the essence and head of the man according to the Bible". The speech of old Cato in Cicero's work Skovoroda represents as "the portrait of the high feelings of the hearts", thanks to which Cato refutes the four reproaches to the old age (such as impediments in deeds, weakening, privation of pleasures and the approach to the death). In the same free manner Skovoroda retells the work of Greek moralist of the 1st century A. D. Plutarch "On the tranquillity of the Soul", renamed by him as «Interpretation of Plutarch on the Peace of Heart», announcing, that he had taken "only the essence of the grapes redressing the pre-Сhristian wisdom in Christian clothes" as concerned in particular the Platonic relation to the death.
References
Дложевський С.С. Плутарх у листуванні Сковороди // Пам'яті Г.С. Сковороди (1722 — 1922) : Збірник наукових праць. — Одеса, 1923. — С. 85–97.

Іваньо І.В. Філософія і стиль мислення Г. Сковороди. — К.: Наукова думка, 1983. — 270 с.

Сковорода Г. Повне зібрання творів : У 2-х т. — К.: Наукова думка, 1973. — Т. 2. — 574 с.

Сковорода Г. Повна академічна збірка творів / За ред. проф. Л. Ушкалова. — Харків: Майдан, 2010. — 1398 с.

Томашевская М. Плутарх // Плутарх. Избранные жизнеописания : В 2-х т. — М.: Правда, 1987. — Т. 1. — С. 5–24.

Філософія Григорія Сковороди / Відпов. ред. В. Шинкарук. — К.: Наукова думка, 1972. — 311 с.

Cicero Marcus Tullius. Cato Maior de Senectute // Cicero Marcus Tullius. Selected Works / Engl. Translation, introduction, commentaries of M. Grant. — L.: Penguin Books Ltd, 1971.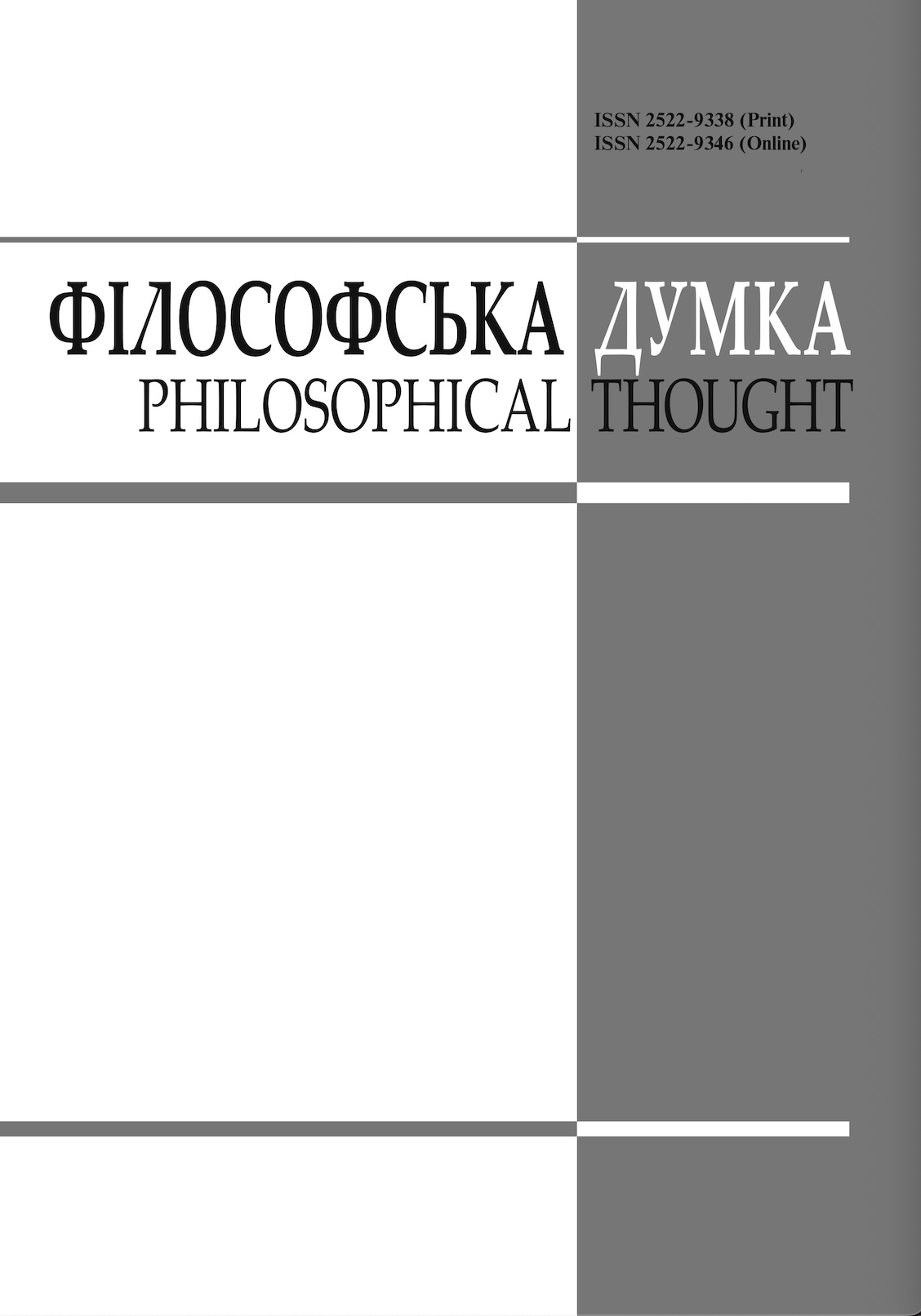 Abstract views: 208
How to Cite
Kashuba, M. (2017). Skovoroda's interpretation of the moral teachings of Cicero and Plutarch. Filosofska Dumka, (5), 30–41. Retrieved from https://dumka.philosophy.ua/index.php/fd/article/view/131
License
Authors who publish with this journal agree to the following terms:
Authors retain copyright and grant the journal right of first publication.
Authors are able to enter into separate, additional contractual arrangements for the non-exclusive distribution of the journal's published version of the work (e.g., post it to an institutional repository or publish it in a book), with an acknowledgement of its initial publication in this journal.
Authors are permitted and encouraged to post their work online (e.g., in institutional repositories or on their website) prior to and during the submission process, as it can lead to productive exchanges, as well as earlier and greater citation of published work (See The Effect of Open Access).