Skovoroda and Byzantine theology
Keywords:
Skovoroda, asceticism, hermeneutics, theology, patristic, theodicy
Abstract
The article examines the tradition of Byzantine theology in Gregory Skovoroda's works. The author analyzes direct links of Ukrainian philosopher's works with the relevant texts of Byzantine theologians. Such references (quotations, allusions and reminiscences) in his omnibus edition are 23. If we compare this number with the number of Ukrainian philosopher's references to the Bible (6993), we can confidently say that Skovoroda admitted a single source of revelation, and it was the Bible, clearly assigning a sacred tradition the secondary role. Nevertheless, the Ukrainian philosopher turns to the experience of Byzantine theology, developing issues of biblical hermeneutics, asceticism, the nature of evil, theodicy or concepts such as "peace", "rough equality", "two wills" in a person and so on. During the development of these issues Skovoroda refers to the works by Basil of Caesarea, John Chrysostom, Gregory of Nazianzus, Evagrius Ponticus, John of Damascus, Maximus the Confessor, Isidore of Pelusium, Nilus of Sinai, John Moschus and Sophronius of Jerusalem.
References
[Василий Великий] Творения иже во святых отца нашего Василия Великого, архиепископа Кессарии Каппадокийския. — М., 1993. — Ч.3. — 496 c.

Вѣнец в честь тривѣнчанному Богу, в Троици славимому. — Чернігів, 1712. — 114 арк. Винницький І. Катехізис, або бароковий душпастирський сад / Супровідні статті й упорядкування Володимира і Дениса Пилиповичів. — Перемишль, 2007. — 518 с.

[Григорий Богослов] Святитель Григорий Богослов, архиепископ Константинопольский. Собрание творений: В 2-х т. Репринтное изд. — Свято-Троицкая Сергиева Лавра, 1994. — Т.1. — 680 с.

Грушевський М. З історії реліґійної думки на Україні. — Львів, 1925. — 192 c.

Ґрачотті С. Українська культура XVII ст. і Європа // Україна XVII ст. між Заходом та Сходом Європи: Матеріали І-го українсько-італійського симпозіуму 13–16 вересня 1994 р. — Київ; Венеція, 1996. — С.1 — 27.

Добротолюбие. — Москва, 1889. — Т.3. — 486 с.

[Евагрий] Творения аввы Евагрия. Аскетические и богословские трактаты. — М., Мартис, 1994. — 362 с.

[Иоанн Златоуст] Полное собрание творений св.Иоанна Златоуста: В 12-ти т. — М., 1991. — Т.1. — Кн.2. — 899 с.

[Иоанн Златоуст] Полное собрание творений св.Иоанна Златоуста: В 12-ти т. — М., 1994. — Т.4. — Кн.1. — 913 с.

[Иоанн Златоуст] Полное собрание творений св.Иоанна Златоуста: В 12-ти т. — М., 1995. — Т.4. — Кн.2. — 923 с.

[Иоанн Златоуст] Полное собрание творений св.Иоанна Златоуста: В 12-ти т. — М., 1999. — Т.6. — Кн.2. — 982 с.

[Иоанн Мосх] Блаженный Иоанн Мосх. Луг духовный. — Москва, 2002. — 318 с.

Книга о вѣрѣ. — Київ, 1620. — 308 с.

Лаба В. Біблійна герменевтика. — Рим, 1990. — 148 с.

Лебедев А. Г.С.Сковорода как богослов // Вопросы философии и психологии. — 1895. — Кн.27 (2). — С.170 — 177.

Лебедев А. Харьковский коллегиум как просветительный центр Слободской Украины до учреждения в Харькове университета // Чтения в Императорском Обществе истории и древностей российских при Московском университете. — 1885. — Кн.4 (окт.-
дек.). — С.1 — 103.

Максим Исповедник. Творения. Кн.2: Вопросоответы к Фалассию. Ч.1. Вопросы I — LV / Перевод и комментарии С.Л.Епифановича, А.И.Сидорова. — М., Мартис, 1993. — 286 с.

Марченко О.В. Григорий Сковорода и русская философская мысль ХІХ — ХХ веков: Исследования и материалы. — М., 2007. — Ч.І. — 276 с.

Могила П. Євхологіон, албо Молитвослов или Требник. — К., 1646. — 1673 с.

Олексюк В. Григорій Сковорода — християнський філософ // Олексюк В. До проблем доби обману мудрости: Збірник філософічних студій / Чікаґо, 1975. — С.15—51.

Пейчев Б. Философский трактат в Симеоновом сборнике. — К.: Наукова думка, 1983. — 152 с.

Полное собрание русских летописей. — СПб., 1846. — Т.1. — 269 с.

Прокопович Ф. Про риторичне мистецтво // Прокопович Ф. Філософські твори: У 3-х т. — К.: Наукова думка, 1979. — Т.1. — С.103—433.

Сковорода Г. Повна академічна збірка творів / За ред. Л.Ушкалова. — Харків; Едмонтон; Торонто: Майдан, 2011. — 1400 с.

Степаненко М. Григорій Сковорода і українське письменство останнього п'ятдесятиліття (Впливи і постать Григорія Савича Сковороди в пореволюційній українській літературі) // Записки Наукового Товариства ім.Шевченка. — Нью-Йорк; Париж; Сидней; Торонто, 1976. — Т.187. — С.138—157.

Транквіліон-Ставровецький К. Євангеліє учителноє. — Рахманів, 1619. — 363, 180 арк.

Ушкалов Л., Марченко О. Нариси з філософії Григорія Сковороди. — Харків: Вид-во «Основа» при Харківському державному університеті, 1993. — 152 c.

Флоровский Г., прот. Пути русского богословия. — Paris, 1937. — 600 c.

Фрагменты ранних греческих философов. Ч.1: От эпических теокосмогоний до возникновения атомистики. — М.: Наука, 1989. — 576 с.

Чижевський Д. Філософія Г.С.Сковороди / Підготовка тексту й переднє слово Л.Ушкалова. — Харків, 2004. — 272 с.

Эрн В.Ф. Григорий Саввич Сковорода. Жизнь и учение. — М., 1912. — 343 c.

Bartolini M.G. «Introspice mare pectoris tui» Ascendenze neoplatoniche nella produzione dialogica di H.S.Skovoroda (1722 — 1794). — Firenze: Firenze University Press, 2010. — 189 p.

Bilaniuk P.B.T. An Introduction to the Theological Thought of Hryhoriy Skovoroda // Hryhorij Savyč Skovoroda. An Anthology of Critical Articles / éd. by R.H.Marshall, Jr. and Th.E.Bird. — Edmonton; Toronto, 1994. — P.251 — 274.

Delineatio hermeneuticae sacrae ad usum studiosorum Sacrae Scripturae accomodata. — Petropoli, 1828. — 152 p.

Erdmann E. von. Unähnliche Ähnlichkeit. Die Onto-Poetik des ukrainischen Philosophen Hryhorij Skovoroda (1722 — 1794). — Köln; Weimar; Wien, 2005. — 740 S.

Patrologiae cursus completus. Series graeca / éd. J.-P.Migne. — 162 vol. — Paris, 1857—1866 [PG].

Pilipowicz D. Rozmowa o duchownym świecie. Hryhorij Skoworoda: filozofia — teologia — mistyka. — Kraków, 2010. — 254 s.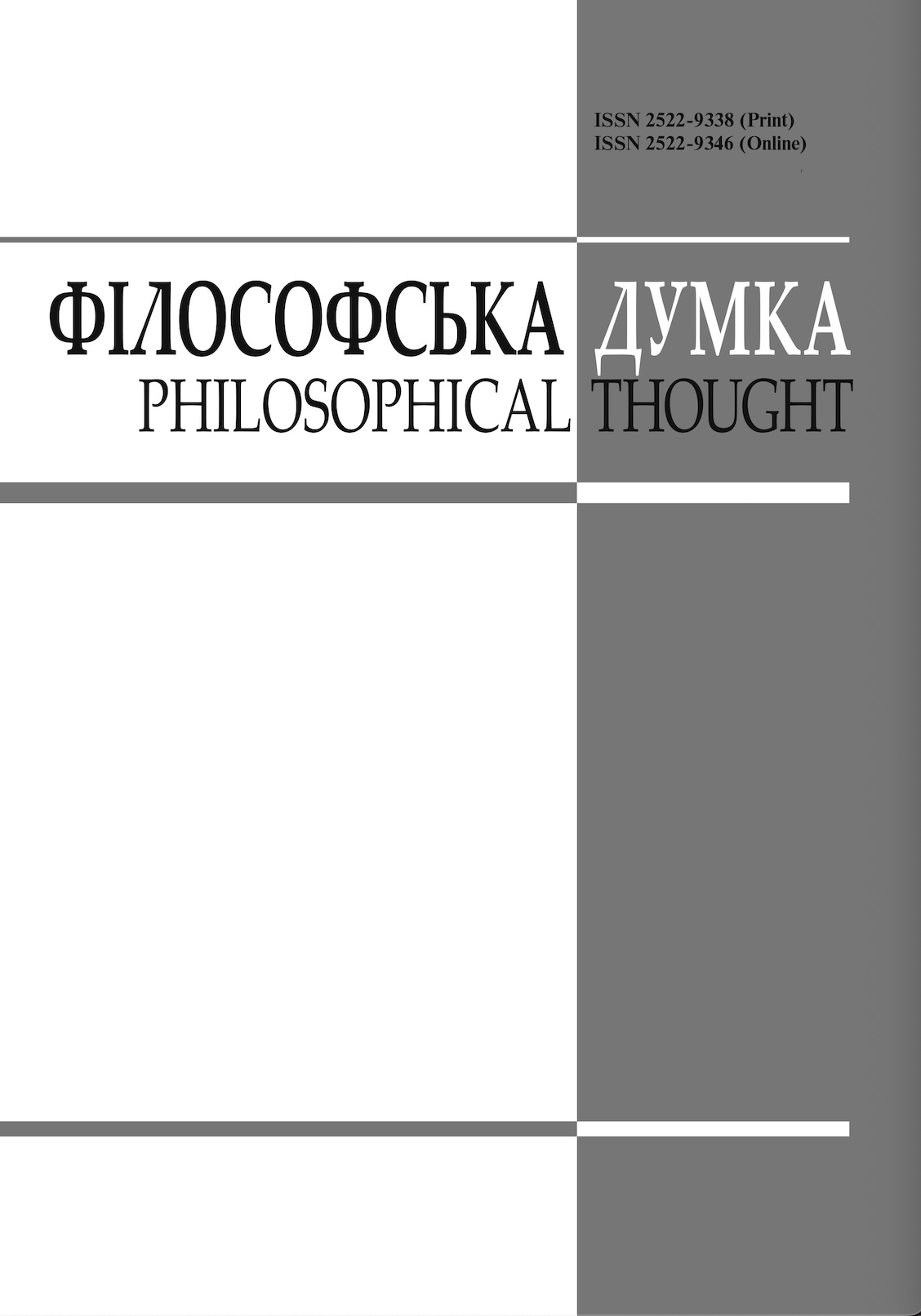 Abstract views: 247
How to Cite
Ushkalov, L. (2017). Skovoroda and Byzantine theology. Filosofska Dumka, (5), 62–72. Retrieved from https://dumka.philosophy.ua/index.php/fd/article/view/133
License
Authors who publish with this journal agree to the following terms:
Authors retain copyright and grant the journal right of first publication.
Authors are able to enter into separate, additional contractual arrangements for the non-exclusive distribution of the journal's published version of the work (e.g., post it to an institutional repository or publish it in a book), with an acknowledgement of its initial publication in this journal.
Authors are permitted and encouraged to post their work online (e.g., in institutional repositories or on their website) prior to and during the submission process, as it can lead to productive exchanges, as well as earlier and greater citation of published work (See The Effect of Open Access).