The ontology of collective entities
Keywords:
collective entity, nominalism, realism, methodological individualism, holism, system, substance
Abstract
The article is devoted to the controversial issue of ontology of collective entities in sociology, political philosophy and methodology of humanities. The article represents opinions of modern nominalists denying the existence of collective entities and realists emphasizing their existential status and demanding to reform monistic ontology of modern philosophy. The article analyzes the realistic theory of collective entities represented by a French philosopher and sociologist Philippe Urfalino who offered some classification criteria for identification collective entities that differ from principles of individuation physical and abstract objects. The scientist defines collective entities as collective agents but not as substances and employs principles of philosophy of action to study them. The article demonstrates a great contribution made by P. Urfalino into development of pluralistic ontology and realization of its principles while studying certain types of collective entities.
References
Anscombe E. Intention [1957]. — Harvard University Press, 2nd ed, 2000. — 106 p.

Arrow K. Social Choice and Individual Values. — Martino Fine Books, 2012. — 110 p.

Boudon R. Reason. Good reasons. — Paris: PUF, 2003. — 192 p.

Descombes V. The Institutions of Meaning : A Defense of Antropologial Holism. Harvard University Press, 2014. — 392 p.

Descombes V. Puzzling Identities. Harvard University Press, 2016. — 224 p.

Descombes V. Collective Individuals // Philosophy and Anthropology. — Paris : Centre Georges Pompidou, 1992. — P. 305—337.

Descombes V. Identification of Ideas // Philosophical review of Louvain. — Peeters Publishers, 1998. — 1 (91). — Р. 86—118.

Hobbes T. Leviathan [1651] / Ukr. transl. — К.: Spirit and Letter, 2000. — 606 p.

List Cr., Pettit Ph. Group agency. The possibility, design, and status of corporate agency. — Oxford University Press, 2011. – 240 p.

Pufendorf S. De jure naturae et gentium libri octo. — Londini Scanorum : Scanorum Sumtibus Adami Junghaus, 1672. — 1227 p.

Simon H. The sciences of the Artifical. — Cambridge : MIT press., 1996. — 215 p.

Simon H. Administrative Behavior. A Study of Decision-Making Pocesses in Administrative Organization. — New York: The Free Press, 1947. — 384 p.

Urfalino Ph. Holism and individualism: clarification of a quarell // Esprit. — 2005. — N. 7. — Р. 210—220.

Urfalino Ph. The reality of groups agency // Practical reasons. — N. 66. — 2017.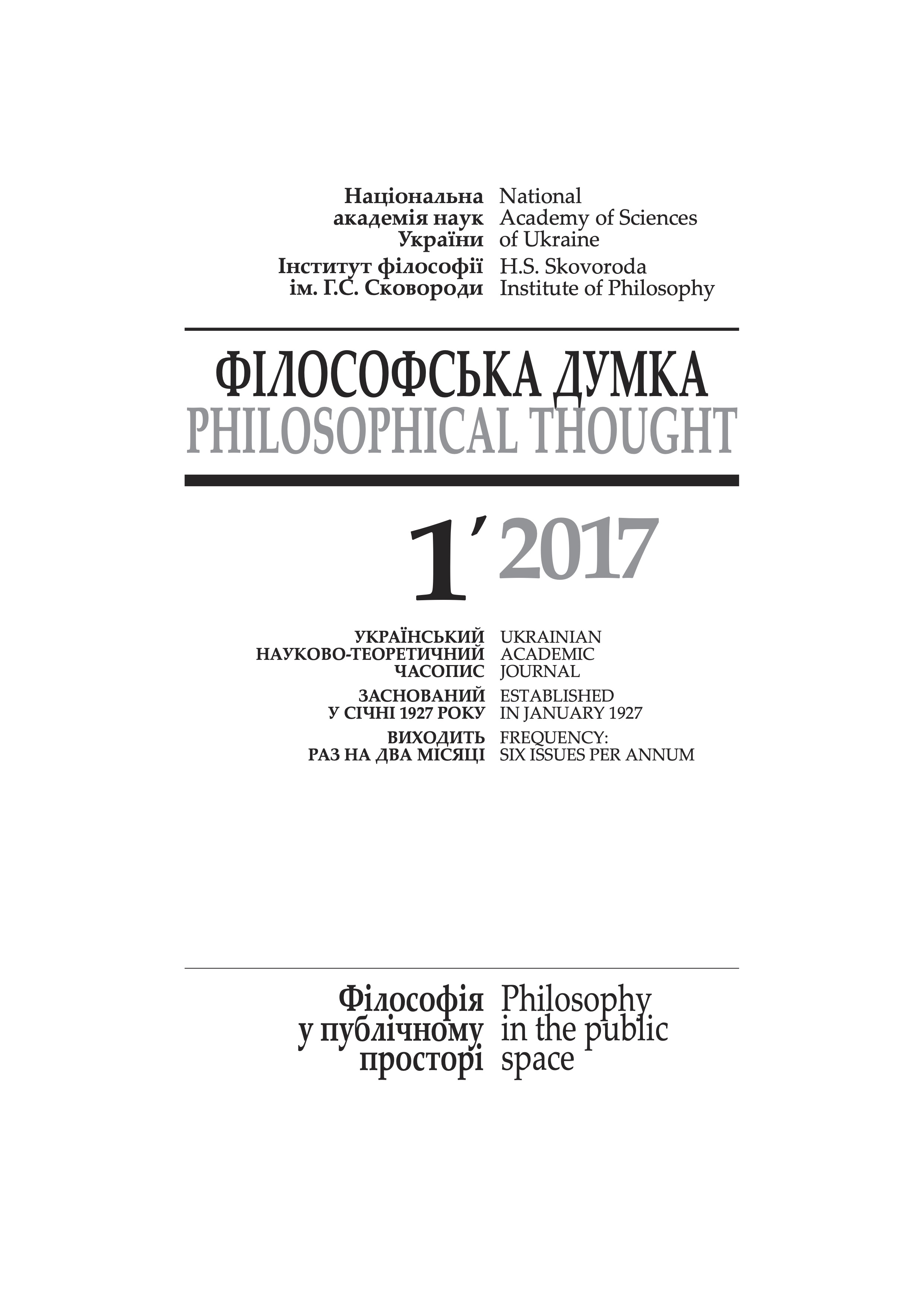 Abstract views: 221
How to Cite
Yosypenko, O. (2017). The ontology of collective entities. Filosofska Dumka, (1), 92–107. Retrieved from https://dumka.philosophy.ua/index.php/fd/article/view/268
License
Authors who publish with this journal agree to the following terms:
Authors retain copyright and grant the journal right of first publication.
Authors are able to enter into separate, additional contractual arrangements for the non-exclusive distribution of the journal's published version of the work (e.g., post it to an institutional repository or publish it in a book), with an acknowledgement of its initial publication in this journal.
Authors are permitted and encouraged to post their work online (e.g., in institutional repositories or on their website) prior to and during the submission process, as it can lead to productive exchanges, as well as earlier and greater citation of published work (See The Effect of Open Access).