Two Phenomenologies and Two French Traditions of Existential Philosophy
Keywords:
intentionality, existential turn, spatial thinking, temporality, existential reduction, involvement
Abstract
This work is an attempt of comparative analysis of two phenomenologies: the phenomenology of E. Husserl and the phenomenology of E. Minkowski and G. Marcel. Two different origins of those phenomenologies are described: the Neo-Kantian and Cartesian origins of Edmund Husserl's phenomenology and Bergsonian origin of Eugene Minkowski's and Gabriel Marcel's phenomenology. The differences in the task, which phenomenologists of two directions had set are marked. The phenomenological ideas of G. Marcel, which were developing in collaboration with E. Minkowski and his tern to the existential issues are presented. A new term: the "existential reduction" is introduced to indicate the differences in the way G. Marcel uses phenomenological abstention.
References
Averintsev, S.S. (2006). To the definition of human. [In Russian]. In: Human. History. Message:Anthology. Кiev: Duh i Litera (p. 403—436). [= Аверинцев 2006]
Dupont, Ch. (2014). Phenomenology in French Philosophy: Early Encounters. In: Phaeo me nologica, 208. Dordrecht: Springer Science+Business Media.
Gadamer, H.G. (1999). Heideggers Wege: Studien zum Spätwerk. Tübingen: Mohr. [= Гадамер 2007]
Hermann, F. von. (2000). Der Begriff der Phänomenologie bei Heidegger und Husserl. Frankfurt am Main: Klostermann. [= Херрманн 2000]
Husserl, E. (1950). Cartesianische Meditationen. Haag: Martinus Nijhoff. [= Гуссерль 2006]
Husserl, E. (1991). Cartesianische Meditationen und Pariser Vorträge. Hrsg. und eingeleitet von Stephan Strasser. Nachdruck der 2. verb. Auflage. [= Гуссерль 1991]
https://doi.org/10.1007/978-94-011-3029-5
Lepp, І. (2004). La Philosophie chrétienne de l'existence. Paris: Ed. Montaigne. [= Лепп 2004]
May, R., Angel, E., Ellenberger, F.H. Existence: a new dimension in psychiatry and psychology…
Marcel, G. (1967). Essai de philosophie concrète. Paris: Gallimard.
Marcel, G. (1971). En chemin — vers quell éveil? Paris: Gallimard.
Marcel, G. (1968). Etre et Avoir I. Journal metaphysique. Paris: Editions Montaigne.
Marcel, G. (1999). Homo viator. Prolégomènes à une métaphysique de l'espérance. Paris. [= Мар сель 1999]
Marcel, G. (2007). Testament philosophique (Vienne, septembre 1968). In: Revue de Méta physique et de Morale, № 3 (Juillet-Septembre 1969) (pp. 253—262). [= Марсель 2007]
Minkowski, E. (2000). Au-delà du rationalisme morbide. Paris: L'Harmattan.
Minkowski, E. (1999). Vers une cosmologie. Petite Bibliothèque Payot.
Ricoeur, P. (1976). Gabriel Marcel et la phénoménologie. In: Entretiens autour de Gabriel Marcel (pp. 53-74). [= Рикёр 2013]
Ricoeur, P. (1969). Le Conflit des interprétations. Essais d'herméneutique I, Le Seuil [= Рикёр 2002]
Scheler, M. (1929). Philosophische Weltanschauung. Bonn: Cohen. [= Шелер 1994]
Tavrizyan, G.M. (1995). Gabriel Marcel: philosophical on human dignity. [In Russian]. In: Marcel, G. The tragic wisdom of philosophy. Selected works. Moscow: Publishing house of humanitarian literature. [= Тавризян 1995]
Tischner, J. (2005). Myślenie według wartości. In: Znak, 1982, 1990. [= Тишнер 2005]
Tischner, J. (2005). Filozofia Dramatu. Paris: Éd. du Dialogue, 1990. [= Тишнер 2005]
Spiegelberg, G. (1994). The Phenomenological Movement. Kluwer Academic Publishers.
Wahl, J. (2001). Esquisse pour une histoire de "l'existentialisme". Paris: L'Arche.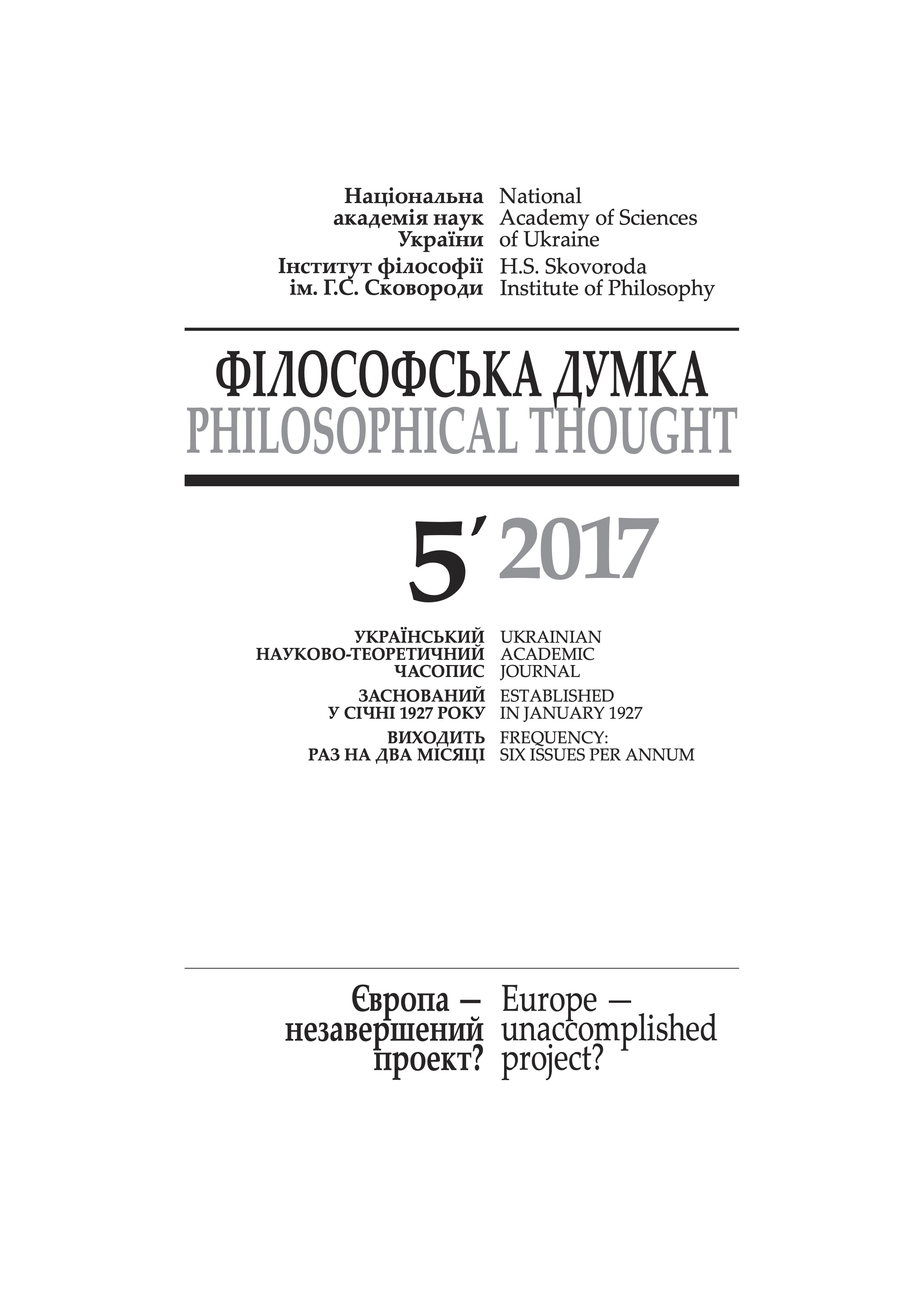 Abstract views: 264
How to Cite
Zinevych, A. (2018). Two Phenomenologies and Two French Traditions of Existential Philosophy. Filosofska Dumka, (5), 76–89. Retrieved from https://dumka.philosophy.ua/index.php/fd/article/view/302
License
Authors who publish with this journal agree to the following terms:
Authors retain copyright and grant the journal right of first publication.
Authors are able to enter into separate, additional contractual arrangements for the non-exclusive distribution of the journal's published version of the work (e.g., post it to an institutional repository or publish it in a book), with an acknowledgement of its initial publication in this journal.
Authors are permitted and encouraged to post their work online (e.g., in institutional repositories or on their website) prior to and during the submission process, as it can lead to productive exchanges, as well as earlier and greater citation of published work (See The Effect of Open Access).