DEVELOPMENT OF PHILOSOPHICAL ANTHROPOLOGY IN KYIV WELTANSCHAUUNG SCHOOL
Keywords:
Weltanschauung School, philosophical anthropology, transcendence, human identity, goal setting, human self-realization
Abstract
The article is dedicated to the development of philosophical anthropology in the Kyiv Weltanschauung School. It is shown that in studies devoted to this school there are certain differences. They concern both the time of the school's founding and its founders. The vast majority of researchers consider Volodymyr Shynkaruk to be the founder of the Kyiv Weltanschauung School and date its emergence in 1969, when the principles of Weltanschauung school were promulgated. At the same time, there is another point of view on the abolition of this school. Some researchers associate its appearance with the name of Pavlo Kopnin, who also had noticeable humanistic motives for philosophizing. Attempts to combine Weltanschauung and logical- epistemological approaches are also noticeable. In this connection it is talked about Kyiv Weltanschauung-Epistemological School. In my opinion, there are more reasons to consider Volodymyr Shynkaruk, the founder of the Kyiv Weltanschauung School, who initiated the study of man - the world of man, which is the core of the Weltanschauung .In Ukrainian philosophical thought, the anthropological turn Kyiv Weltanschauung School took place not on blank space. Representatives of this school, first of all its founder Volodymyr Shynkaruk, continued to some extent the tradition of "philosophy of heart" of H. Skovoroda and P. Yurkevich, on the other hand, their philosophical heritage strangely reflected the mainstream of modern philosophy, namely the turn from epistemology to anthropology, to the ontology of the world of human existence. It is necessary to distinguish between the understanding of philosophical anthropology in the narrow and broad sense. In a narrow sense, it is understood as a philosophical discipline that developed in the 20-30 years of the 20th century and is represented by the names Scheler, Helen, Plesner. In a broad sense, philosophical anthropology is a philosophical reflection on man in general. In this regard, such key problems of philosophical anthropology as human transcendence, its identity, goal-setting as a way of human self-realization are considered.
References
Andros, E. Department of Philosophical Anthropology: Conceptual Principles of Work and Departmental Life (2019). [In Ukrainian]. In: Philosophy at the Academy: achievements, problems, prospects (to the 100th anniversary of the NAS of Ukraine). (p.105). Kyiv: Institute of Philosophy. G.S. Frying pans of NASU.
Hösle, V. Transcendental pragmatics as Fichteanism of intersubjectivity (1992). Philosophical and Sociological Thought, 2,… -…
Yermolenko, A.M. (1992). Preliminary remarks on transcendental pragmatics. [In Ukrainian]. Philosophical and Sociological Thought, 2, 65–66.
Kyiv weltanschauung-epistemological school of the second half of the twentieth century (2020). [In Ukrainian]. Kyiv: Institute of Philosophy. H.S. Skovoroda, NASU.
Kozachynska, V. (2016). Subjectivity: opening of heterogeneous expanses (Philosophical-anthropological dimension). [In Ukrainian]. Kyiv: M.P. Drahomanova NPU
Mulkay, M., Gilbert, J. (1987). Opening a Pandora's box. [In Russian]. Moscow
Polanyi, M. (1985). Personal knowledge. [In Russian]. Moscow: Progress.
Reno, A. (2002). The era of the individual. To the history of subjectivity. [In Russian]. St. Petersburg: Vladimir Dal.
Tabachkovskyi, V. (1996). Man – Existence – History. [In Ukrainian]. Kyiv.
Tabachkovskyi, V. (2012). In search of the not lost time. [In Ukrainian]. Kyiv: PARAPAN.
Lautor, B., Woolgar, S. (1979). Laboratory life: The social construction of scientific facts. London, Beverly Hills.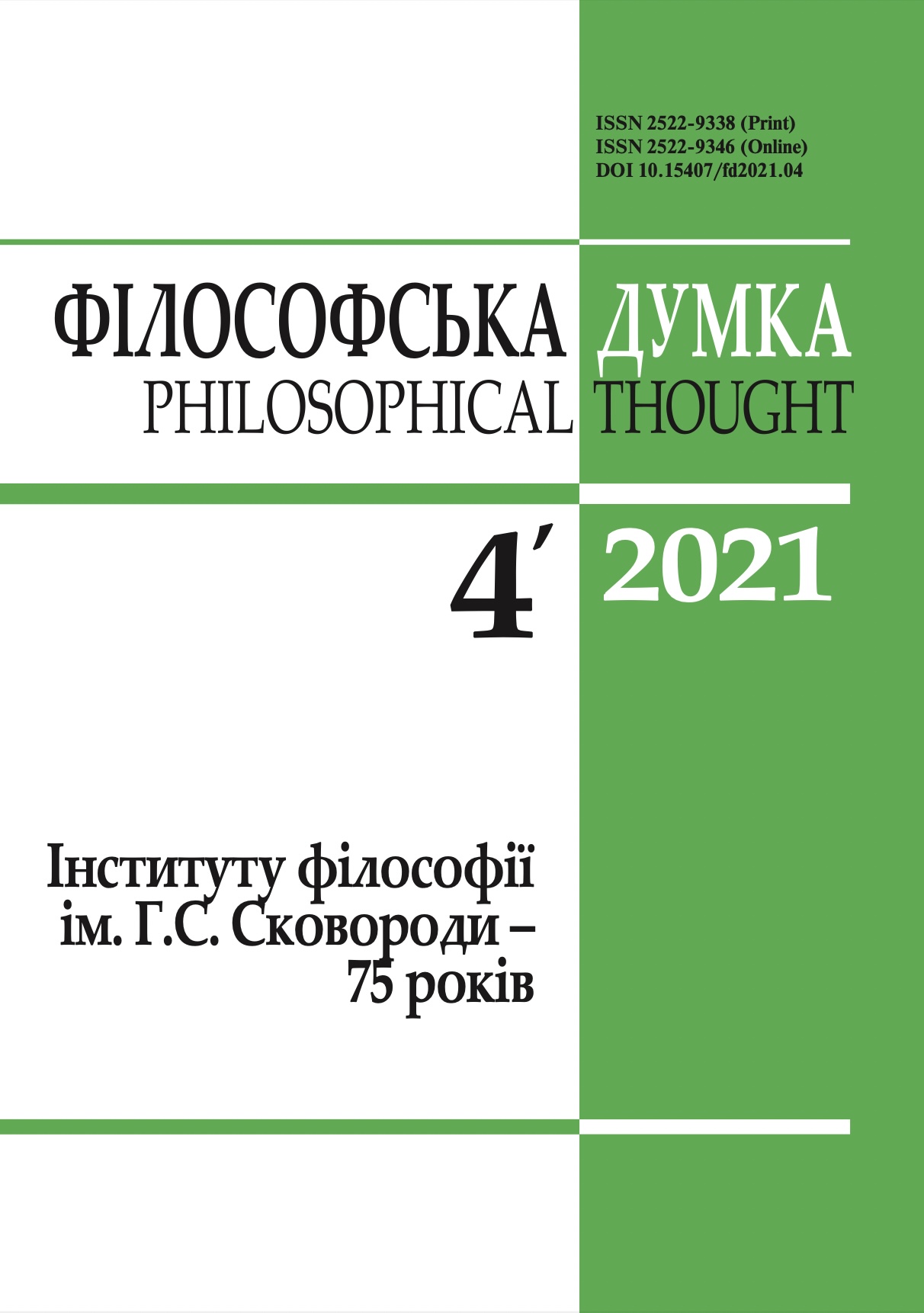 Abstract views: 91
How to Cite
ZAHORODNIUK, V. (2021). DEVELOPMENT OF PHILOSOPHICAL ANTHROPOLOGY IN KYIV WELTANSCHAUUNG SCHOOL. Filosofska Dumka, (4), 112–122. https://doi.org/10.15407/fd2021.04.112
Section
TOPIC OF THE ISSUE
License
Authors who publish with this journal agree to the following terms:
Authors retain copyright and grant the journal right of first publication.
Authors are able to enter into separate, additional contractual arrangements for the non-exclusive distribution of the journal's published version of the work (e.g., post it to an institutional repository or publish it in a book), with an acknowledgement of its initial publication in this journal.
Authors are permitted and encouraged to post their work online (e.g., in institutional repositories or on their website) prior to and during the submission process, as it can lead to productive exchanges, as well as earlier and greater citation of published work (See The Effect of Open Access).