PHENOMENON OF THE EVENT IN MORAL DIMENSION: INNER FORM AND CRUCIAL FACTORS
MODERN HUMANITIES
Keywords:
the moral event, moral self-actualization, recognition, acceptance by Others, the presence, dramaturgy of the event
Abstract
The article raises a question of what turns out to be the event, if we take human existence in its ethical dimension.
The author explores the levels of actualization by a person of that, which is considered by he or she as morally significant, as well as possibilities of accepting this actualization by other members of the moral community. To the author's opinion, this task demands a special attention to the ethic dimension of human existence, where a possibility appears to diagnose and analyze changes, which bring about an ethical shift of one's moral set.
Changes of such a level are conceptualized in the article as moral event (and not just a mor- al assessment of an event, which can leave a man untouched).
The author sets apart the two levels of moral eventness: the first is moral self-actualization, which entails no more than event-for-itself to be merely recognized by other members of the community, and the second — when aforementioned self-actualization is accepted by others to become the moral Event as such.
Starting out from the notion of "recognition" worked out by Charles Taylor, author claims that this notion is insufficient for thorough understanding of a "fully-fledged" acceptance of the moral event by others. The concept of "acceptance by Others", introduced in the article, makes it possible to grasp such hardly defined components of the moral event as alterations in inner emotional, intellectual and faith-focused dispositions of a human being.
Additionally, author grounds the idea of exploring the moral event through its inner space and time as forms of eventness. Inner space of the moral event is defined as the presence, while inner time as its dramaturgy.
References
Badiou, A. (1989). Manifeste pour la philosophie. Paris: Seuil.
Bakhtin, M. (1979). The Problem of Text in Linguistics, Philology, and the Human Sciences. [In Russian]. In: M. Bakhtin, The Aesthetics of Verbal Creation (ed. by S. G. Bocharov) (pp. 281-308 ). Moscow: Iskusstvo.
Bakhtin, M. (2003). Toward a Philosophy of the Act. [In Russian]. In: M. Bakhtin, Collected works in 7 vols. (vol. 1, pp. 7-68). Moscow: Russkie slovari; Yazyki slavianskoi kultury.
Camus, A. (2015). The Myth of Sisyphus. [In Ukrainian]. Kyiv: Portfel.
Chukhrai, E. (2015). The Purpose of Life and the Meaning in Life: History of Philosophy and Limits of Rational Reconstruction. [In Ukrainian]. Sententiae, 32(1), 143-152.
https://doi.org/10.22240/sent32.01.143
Heidegger, M. (1967). Sein und Zeit. Tübingen: Max Niemeyer.
Heidegger, M. (2000). Über den Humanismus. Frankfurt am Main: Vittorio Klostermann. Panych, O. (2016). In Search of a Common Good (Reflections on Andrii Baumeister's Book "Being and Good"). [In Ukrainian]. Sententiae, 3 4 (1), 144-160.
https://doi.org/10.22240/sent34.01.144
Podoroga, V. (2018). Event. [In Russian]. In: New Philosophy Encyclopedia Retrieved from: https:// iphlib.ru/library/collection/newphilenc/document/HASH0139acd568bdd24f76199339.
Taylor, Ch. (2004). The Politics of Recognition. [In Ukrainian]. In: Multiculturalism and "The Politics of Recognition" (pp. 29-71). Kyiv: Alterpress.
Yermolenko, A. (2010). Social Ethics and Ecology. Human Dignity - Respect for Nature. [In Ukrainian]. Kyiv: Libra.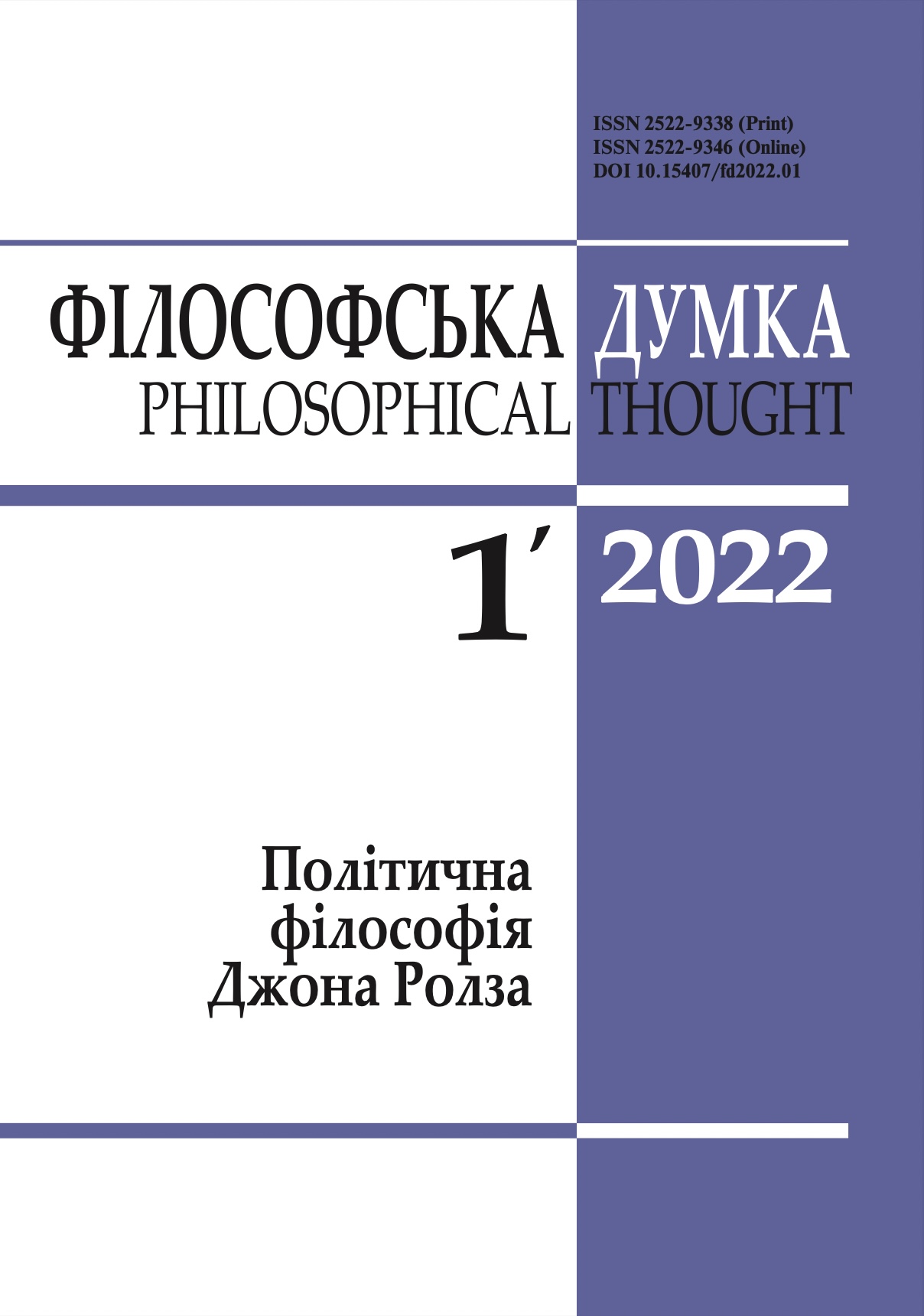 Abstract views: 83
How to Cite
ZHULAY, V. (2022). PHENOMENON OF THE EVENT IN MORAL DIMENSION: INNER FORM AND CRUCIAL FACTORS: MODERN HUMANITIES. Filosofska Dumka, (1), 84–97. https://doi.org/10.15407/fd2022.01.084
License
Authors who publish with this journal agree to the following terms:
Authors retain copyright and grant the journal right of first publication.
Authors are able to enter into separate, additional contractual arrangements for the non-exclusive distribution of the journal's published version of the work (e.g., post it to an institutional repository or publish it in a book), with an acknowledgement of its initial publication in this journal.
Authors are permitted and encouraged to post their work online (e.g., in institutional repositories or on their website) prior to and during the submission process, as it can lead to productive exchanges, as well as earlier and greater citation of published work (See The Effect of Open Access).