K.-O. APEL's TRANSCENDENTAL SEMIOTICS AS A MORAL PHILOSOPHY OF HISTORY
Keywords:
Karl-Otto Apel, transcendental semiotics, transcendental pragmatics of language, trans cendental hermeneutics, principle of intersubjectivity
Abstract
K.-O. Apel's transcendental semiotics covers both transcendental pragmatics of language and transcendental hermeneutics. This presupposes an in-depth elaboration of the traditional prob- lems of philosophy related to the metaphysics of natural evolution and mentalist epistemology, that is the problems of being, morality, and truth. K.-O. Apel's approach is the embodiment of one of the important tendencies of our time, namely the return to substantiation as opposed to such postmodernist tendency, as the ironic overthrow of age-old philosophical ideals. All the works by K.-O. Apel are connected with transcendental semiotics, or, in other words, transcen- dental pragmatics and philosophy of language. Thus, he proposes a way to transform transcen- dental philosophy in the plane of the philosophy of language, the main result of which should be an analysis of thinking in terms of language use, and therefore in terms of transcendental prag- matics. The subject of the study of language pragmatics is the analysis of the use of language in everyday communication between people.
According to Apel, the involvement of pragmatics as a methodological basis of philosophy makes it possible to solve many problems facing modern philosophy, first of all to overcome the traditional solipsism of transcendental philosophy of consciousness, to propose a substantiation for the principle of intersubjectivity and so on. At the same time, pragmatics as a heuristic ap- proach makes it possible to make the object of philosophical analysis any sphere of human com- munication, including social and ethical relations.
References
Apel, K.-O. (1993). Kann es in der Gegenwart ein postmetaphysisches Paradigama der Ersten Philosophie geben? In: G. Keil (Hrsg.), Philosophie der Gegenwart — Gegenwart der Philo- sophie. Hamburg.
Apel, K.-O. (1994). Towards a transcendental semiotics. In: Selected essays (vol. 1). Atlanta Highlands, NJ: Humanities Press.
Apel, К.-О. (1998). Sinnkonstitution und Geltungsrechtfertigung. Heidegger und das Problem der Transzendentalphilosophie. Іn: Auseinandersetzungen. In Erprobung des Transzendental-pragmatischen Ansatzes, Frankfurt a.M.: Suhrkamp.
Трансцендентальна семіотика К.-О. Апеля як моральна філософія історії
Gadamer, H.-G. (1988). Truth and Method. [In Russian]. Moscow.
Hösle, V. (1994). Die Krise der Gegenwart und die Verantwortung der Philosophie. München. Kolberg, L. (1981). The Philosophy of Moral Development, Moral Stages and the Idea of Justice. San Francisco.
Jaspers, K. (1991). The origins of history and its purpose. [In Ukrainian]. S.l.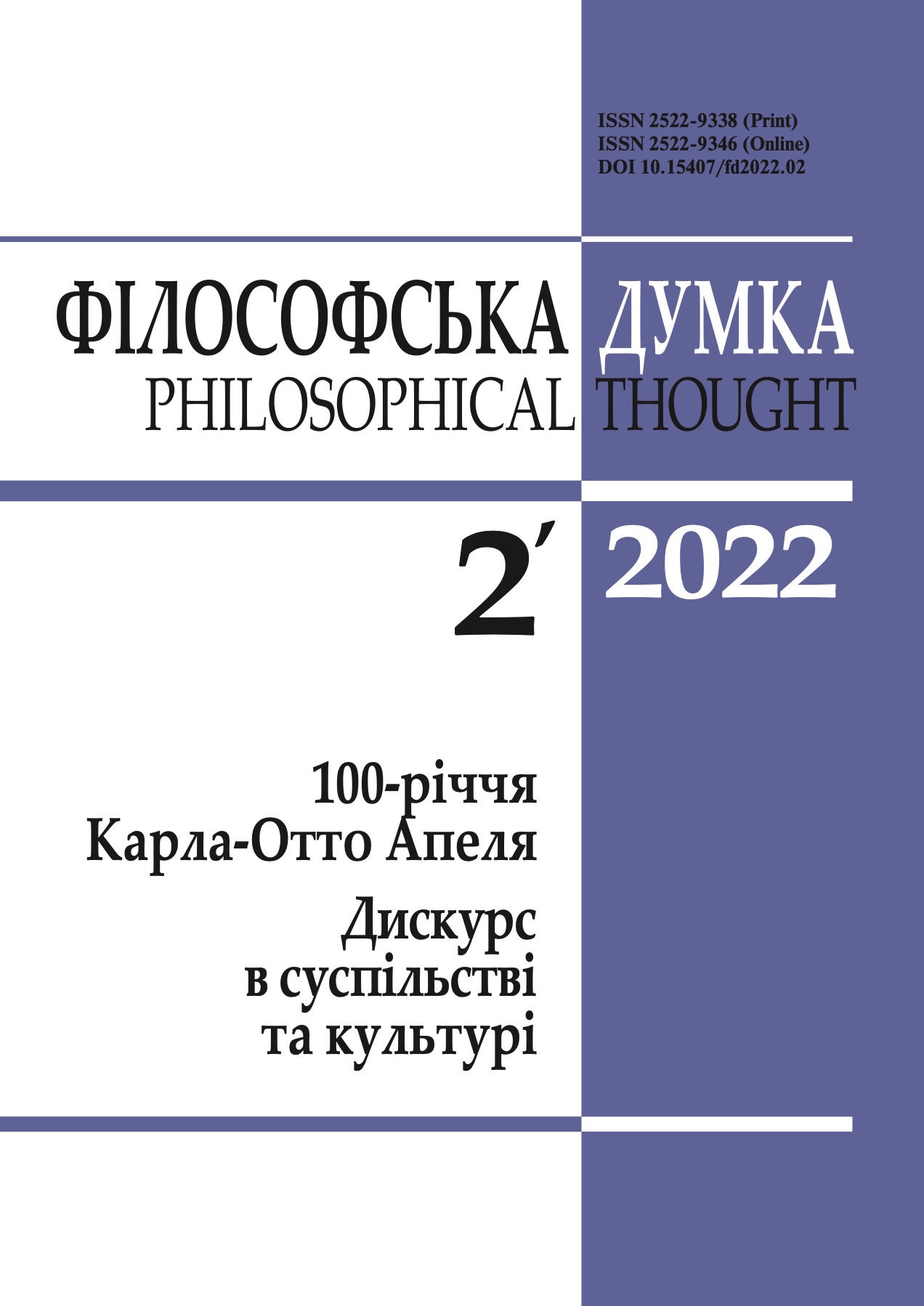 Abstract views: 57
How to Cite
KUPLIN , V. . (2022). K.-O. APEL's TRANSCENDENTAL SEMIOTICS AS A MORAL PHILOSOPHY OF HISTORY . Filosofska Dumka, (2), 39–51. Retrieved from https://dumka.philosophy.ua/index.php/fd/article/view/596
Section
TOPIC OF THE ISSUE
License
Authors who publish with this journal agree to the following terms:
Authors retain copyright and grant the journal right of first publication.
Authors are able to enter into separate, additional contractual arrangements for the non-exclusive distribution of the journal's published version of the work (e.g., post it to an institutional repository or publish it in a book), with an acknowledgement of its initial publication in this journal.
Authors are permitted and encouraged to post their work online (e.g., in institutional repositories or on their website) prior to and during the submission process, as it can lead to productive exchanges, as well as earlier and greater citation of published work (See The Effect of Open Access).