DECOLONIZATION OF UKRAINIAN CULTURE: VOUK POLICY OR NATIONAL AWAKENING?
Keywords:
decolonization of culture, extractivism, context, the culture of cancellation, methodologyof decolonization, national colonialism, politics of woke-up
Abstract
The article is devoted to the decolonization of Ukrainian culture as an important factor of nation-building in the European perspective. At the same time, decolonization is a current trend in Western academic thought, which is embodied in social activism, in particular, in the wok movement and the culture of abolition. Postcolonial studies has become an intellectual battleground. These studies draw a new front line in the culture wars. Rethinking Western culture in light of its imperial expansionist past defines the goal of decolonization. However, the tendency towards the politicization of vouk and the culture of cancellation. carries the risks of undermining the basic values of Western culture - freedom of thought and the rule of law, while the decolonization of Ukrainian culture has a different purpose. Unlike cultural decolonization in Western countries, cultural decolonization in Ukraine is aimed at legitimizing modern European values (Lisbon Agreement, 2007) by overcoming the «Russian-oriented» (Eurasian) tradition of thinking.Identifying the authentic contents of Ukrainian culture and refuting its imperial-Soviet interpretations
is one of the main tasks of the decolonization of Ukrainian culture. The article offers
a comparative analysis of Ukrainian and Western versions of cultural decolonization in order to avoid uncritical borrowings and ignoring the peculiarities of the Ukrainian context. The successful decolonization of Ukrainian culture requires the development of its 1) concept, 2) methods of theoretical substantiation, and 3) methods of practical implementation. The article states that the decolonization of Ukrainian culture becomes possible if its research strategies are deprived of colonial influences, which reveal indications of the imperial and Soviet scientific paradigm of social and humanitarian knowledge. The key concepts of the research are referring to the works
of Nigel Giggar (2023), Douglas Murray (2022), Linda Martín Alcoff (2023), Jonh Darwin (2009), Kwasi Kwarteng (2013), Yaroslav Hrytsak (2022), Serhii Plokhii (2021, 2023), Timothy D. Snyder (2017, 2918) and others.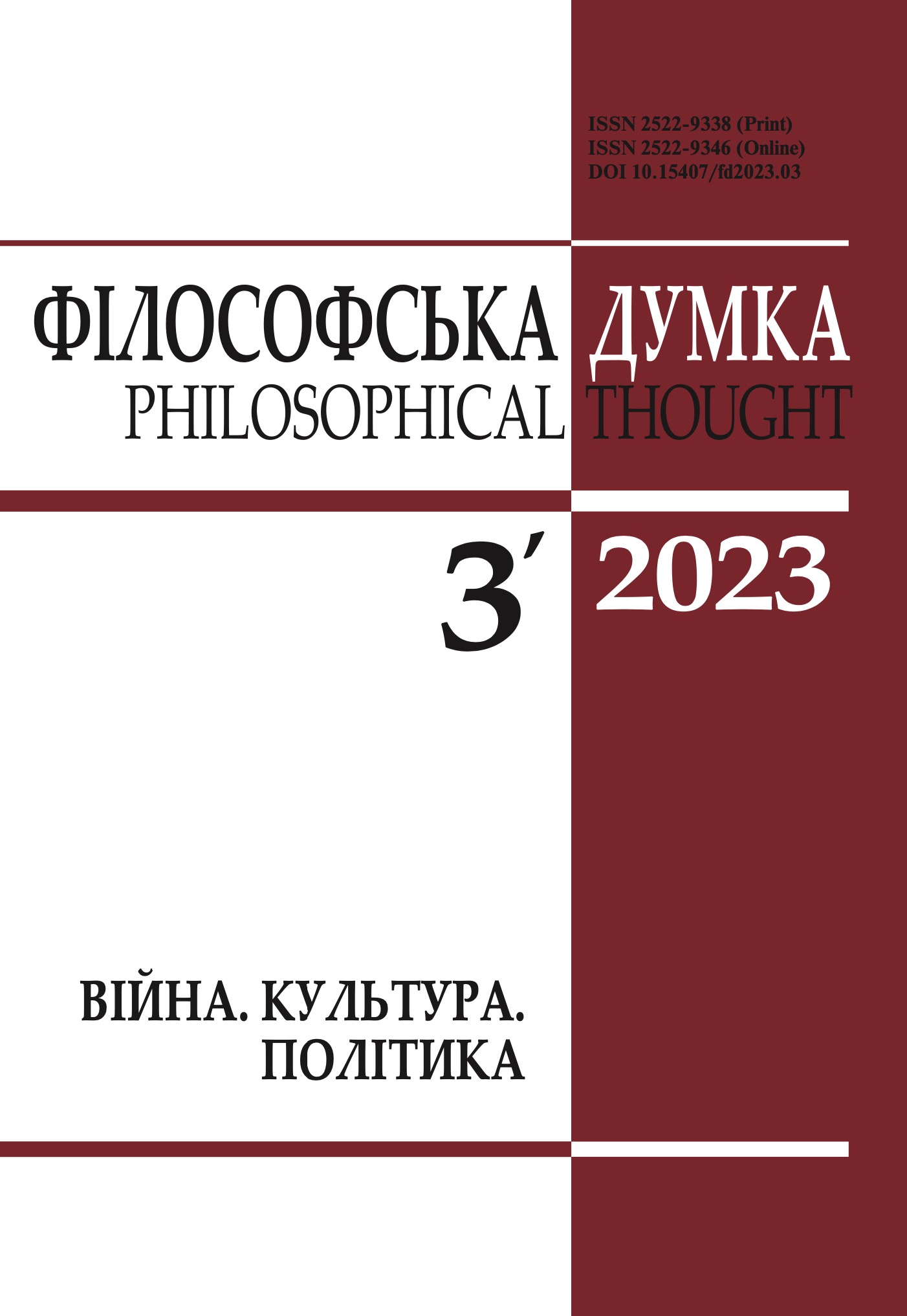 Abstract views: 112
How to Cite
GOMILKO, O. (2023). DECOLONIZATION OF UKRAINIAN CULTURE: VOUK POLICY OR NATIONAL AWAKENING?. Filosofska Dumka, (3), 49–58. https://doi.org/10.15407/fd2023.03.049
Section
TOPIC OF THE ISSUE
License
Authors who publish with this journal agree to the following terms:
Authors retain copyright and grant the journal right of first publication.
Authors are able to enter into separate, additional contractual arrangements for the non-exclusive distribution of the journal's published version of the work (e.g., post it to an institutional repository or publish it in a book), with an acknowledgement of its initial publication in this journal.
Authors are permitted and encouraged to post their work online (e.g., in institutional repositories or on their website) prior to and during the submission process, as it can lead to productive exchanges, as well as earlier and greater citation of published work (See The Effect of Open Access).