Philosopher and War
Keywords:
war, survival, eternal peace, morality, Christian Platonism, megalothymia
Abstract
The article is an attempt to answer the question of what, if any, is the role and responsibility of a philosopher in times of war. In certain circumstances, philosopher, like Socrates, can die "as a philosopher"; but this scarcely covers his death in a battle. Voltaire in his "Candide" provides an opposite suggestion: in a battle Candide "trembles as a philosopher" and does his best to hide and survive. Ironical as it stands, this suggestion is supported by Descartes' autobiography, where he confesses that he discovered the grounds of his philosophy in a quiet place not far from the battlefront. However, this avoidance of a battle may easily look like philosopher's moral sin in need of redemption. Could philosopher redeem it by offering a philosophical recipe for attaining and maintaining an "eternal peace"? The article reviews four such recipes, suggested by Hobbes, Kant, Wittgenstein and Levinas, and concludes that all of them fail for this or that reason. Practical failure is also awaiting for those who universally apply the principle of "universal strife for universal good in any conflict", that follows from basic understanding of Goodness in Christian Platonism. Instead, one should pay more attention to ontological and ethical grounds for "constant readiness to war", which is quite not the same as "constant bellicosity". In this respect, is it worthwhile to critically review Fukuyama's notions of "thymos" and "megalothymia", and split the "megalothymia" into the two morally different versions of aggressive "epithemegalothymia" and defensive "alexomegalothymia". The second mode is morally superior and could be cultivated as a "frontier morality" of the "post-historical world" together with its internally dominant ethos of "isothymia".
References
Баумейстер А. Буття і благо. — Вінниця, 2014.

Вітгенштайн Л. Tractatus logico-philosophicus. Філософські дослідження / пер. Є. Поповича. — К., 1995.

Декарт Р. Міркування про метод, щоб правильно спрямовувати свій розум і відшуковувати істину в науках / пер. В. Андрушка, С. Гатальської. — К., 2001.

Платон. Бенкет / пер. У. Головач. — Львів, 2005.

Ямпольская А. Эмманюель Левинас: философия и биография. — К., 2011.

Descartes R. Discours de la méthode pour bien conduire sa raison, et chercher la vérité dans les sciences // Oeuvres de Descartes publiées par Ch. Adam et Paul Tannery. — Paris, 1996. — T. 6.

Fichte J.G. Grundlage der gesamten Wissenschaftslehre. — Hamburg, 1997.

Fukuyama F. The End of History and the Last Man. — S.l., 1992.

Kant I. Zum ewigen Frieden. Ein philosophischer Entwurf // Kant-Werke. — Frankfurt am Main, 1977. — Bd. 11. — S. 195– 270.

Levinas E. Totalité et Infini: Essai sur l'extériorité. — S.l., 1971.

Lovibond S. "In Spite of the Misery of the World": Ethics, Contemplation, and the Source of Value // Wittgenstein and the Moral Life: Essays in Honor of Cora Diamond. — S.l., 2007. — P. 305– 326.

Sancti Thomae de Aquino Summa Theologiae // http://www.corpusthomisticum.org/sth0000. html (s.a.).

Sancti Thomae de Aquino Quaestiones disputatae de malo. — http://www.corpusthomisticum. org/qdm01.html (s.a.).

Voltaire Candide ou l'optimisme // Blackmask Online.. — http://www.blackmask.com (s.a.).

Wittgenstein L. Notebooks 1914—1916. — Basil Blackwell, 1961.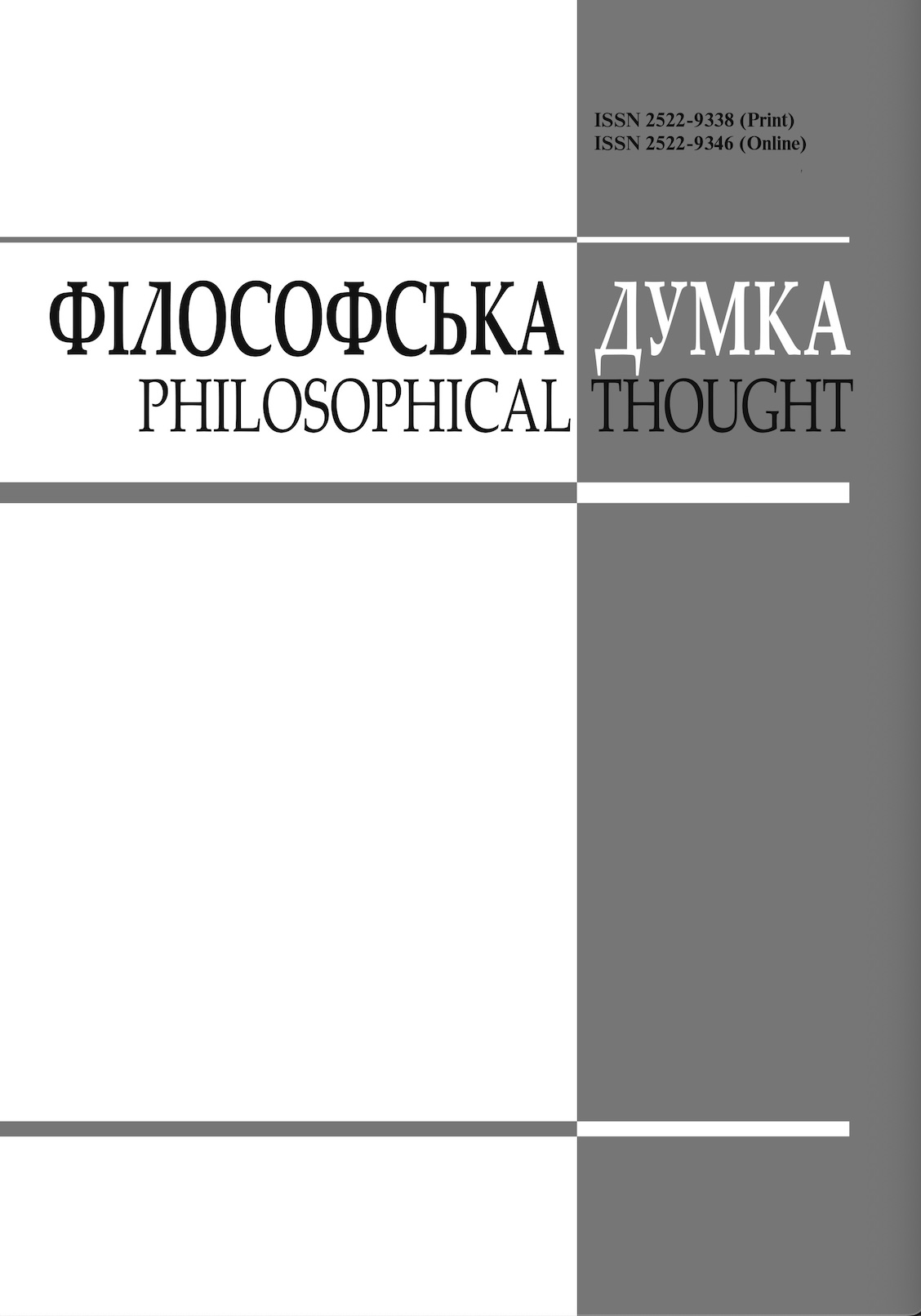 Abstract views: 357
How to Cite
Panych, O. (2017). Philosopher and War. Filosofska Dumka, (1), 75–89. Retrieved from https://dumka.philosophy.ua/index.php/fd/article/view/70
Section
TOPIC OF THE ISSUE
License
Authors who publish with this journal agree to the following terms:
Authors retain copyright and grant the journal right of first publication.
Authors are able to enter into separate, additional contractual arrangements for the non-exclusive distribution of the journal's published version of the work (e.g., post it to an institutional repository or publish it in a book), with an acknowledgement of its initial publication in this journal.
Authors are permitted and encouraged to post their work online (e.g., in institutional repositories or on their website) prior to and during the submission process, as it can lead to productive exchanges, as well as earlier and greater citation of published work (See The Effect of Open Access).