Memorial landscape of Ukrainian culture: the past and the present
Keywords:
culture, cultural memory, «places of memory», memory, Ukrainian culture
Abstract
The current state of the memorial landscape of Ukrainian culture is conceptualized in the article as a complex, multi-layered, diverse and modern formation, weakly associated with ancient tradition. Despite superficial discontinuity of functioning of the memorial space of Ukrainian culture in the 19th — early 21st centuries, its consolidation and transition from mechanical combination of different chronological layers to structured system take place. The main component of the cultural memory of Ukraine is a complex of places of memory, which includes memorials in honour of socio-political and cultural figures and numerous monuments dedicated to the Cossacks. They refer to the state independence of Ukraine and liberty of Ukrainian people from the early Modern Period. However, until recently the most common Soviet segment is shifted to the periphery of the Ukrainian memorial space.
The acceleration of positive transformation of this space can be connected simultaneously with the implementation of still dominant model of memory of civic, humanistic contents and finding more modern forms of its representation. The functioning of the memorial landscape in modern Ukrainian culture will face the problems of specificity of Ukrainian frontier and insufficient unification of the society around its own memorial «core». The above threats can be neutralized by the mass official public memorial policy. The number of its examples has been constantly growing since the early 2000's.
References
Vasilyev, А. (2012). Memory studies: Unity of paradigm — diversity of objects [in Russian]. In: Novoye literaturnoye obozreniye, 5(117). — http://www.nlobooks.ru/node/2640.
Hrabovich G. (s.a.). Taras Shevchenko: formation of the national poet [in Ukrainian]. In: Krytyka, XIX, 3–4 (209–210), 2–9 [in Ukrainian].
Yekelchyk, S. (2004). Stalin's empire of memory [electronic resource] : Russian-Ukrainian relations in the Soviet historical imagination. Toronto; Buffalo: University of Toronto Press. — http://search.library.utoronto.ca/details. https://doi.org/10.3138/9781442680166.
Zernii, Yu.О. (2009), State policy of memory as a factor of consolidation of Ukrainian national identity (abstract of Cand. Sc. Thesis (Polit.): 23.00.05) [in Ukrainian], V.M. Koretskyi Insitute of State and Laws, NAS of Ukraine. Kyiv.
The history of Ukrainian Cossacks : essays (in 2 vols.) (2007) [in Ukrainian]. Kyiv: PH "Kyiv-Mohyla Academy", Vol. 2.
Koselleck, R. (2004). The unknown soldier as a national symbol of Europe (transl. from German) [in Ukrainian]. In: Historical searches of identity : Ukrainian-German colloquium. Кyiv: Dukh i litera, 20–39.
Kravchenko, V.V. (2010). Khar'kov / Kharkiv: the capital of Frontier [in Russian]. Vilnius.
Nadkarni, M. (2014). About time, trauma and monument: Park-museum of sculptures in Budapest (transl. from English by N. Katricheva, P. Kulagina, A. Logutova, L. Razgulina) [in Russian] // Novoye literaturnoye obozreniye, 2 (216), — http://magazines.russ.ru/nlo/2014/126/13n.html.
Palamarchuk М.О. (2014). Modernization challenges in Ukraine: political aspects (ed. by O.V. Lytvynenko) [in Ukrainian]. Кyiv.
Riabchuk M. (s.a.). Two Ukraines: the end of ambivalence? [in Ukrainian]. In: Krytyka, XIX, 1–2 (207–208), 2–12.
Ukrainian institute of national memory. Decommunization (s.a.) [in Ukrainian]. — http://www.memory.gov.ua/page/dekomunizatsiya-0.
Freud, S. (s.a.). About psychoanalysis. 5 lectures. Lecture 1. — http://www.rasch.org/over.htm.
Freud S. (1998). Mourning and melancholy [in Russian]. In: Basic psychological theories in psychoanalysis. Essay in the history of psychoanalysis. St. Petersburg: Aleteya, 211–231.
A Companion to Сultural memory studies: an international and interdisciplinary handbook (2008) (ed. by A. Erill, A. Nünning). S.l.
Gorchenin Institute. Social and political moods of Ukraine population (part 2) [in Ukrainian] (s.a.). — http://institute.gorshenin.ua/news/1194_obshchestvennopoliticheskie.html.
Genres as Repositories of Cultural Memory (1997) (ed. by H. van Gorp, U. Mussarra-Schroeder.Leiden.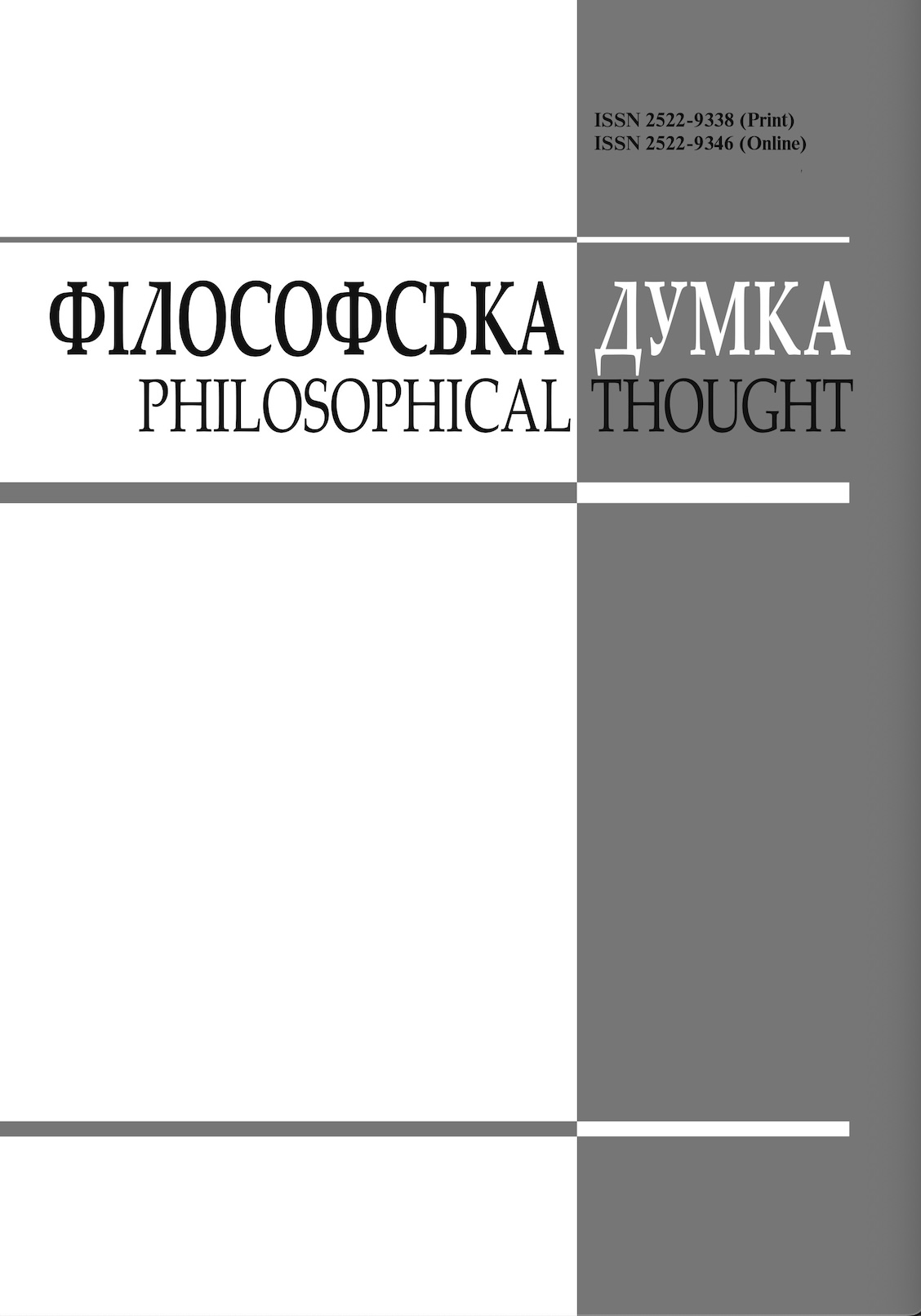 Abstract views: 266
How to Cite
Kyslyuk, K. (2017). Memorial landscape of Ukrainian culture: the past and the present. Filosofska Dumka, (3), 90–105. Retrieved from https://dumka.philosophy.ua/index.php/fd/article/view/22
License
Authors who publish with this journal agree to the following terms:
Authors retain copyright and grant the journal right of first publication.
Authors are able to enter into separate, additional contractual arrangements for the non-exclusive distribution of the journal's published version of the work (e.g., post it to an institutional repository or publish it in a book), with an acknowledgement of its initial publication in this journal.
Authors are permitted and encouraged to post their work online (e.g., in institutional repositories or on their website) prior to and during the submission process, as it can lead to productive exchanges, as well as earlier and greater citation of published work (See The Effect of Open Access).