Equivocity of being and modal metaontology
Keywords:
Aristotle, modal metaphysics, metaontology, possibilism, modal Meinongianism
Abstract
Aristotle held the opinion that "Being is said in many ways". The aim of this paper is to
find out the extent to which contemporary modal metaphysics supports this opinion. I assert
that the structure of modal semantics that presupposes a diversity of possible worlds
somehow related to the actual world as the exemplar, reproduces the Aristotelian conception
of Being in relation to one. This Aristotelian resource of contemporary modal metaphysics
most properly reveals itself in classical possibilism and modal Meinongianism.
References
Berto, F. (2012). Existence as a Real Property. Dordrecht: Springer.
Berto, F., Plebani, M. (2015). Ontology and Metaontology: A Contemporary Guide. New York, London: Bloomsbury.
Fitting, M, Mendelsohn, R. L. (1998). First-Order Modal Logic. Kluwer: Dordrecht. https://doi.org/10.1007/978-94-011-5292-1.
Inwagen, p. van (1998). Meta-ontology. In: Erkenntnis, 48, 233–250.
Lewis, D (1990). Noneism or Allism? In: Mind, 99, 21–31. https://doi.org/10.1093/mind/XCIX.393.24.
Menzel, C. (2016). Actualism. In: E. N. Zalta (Ed.). The Stanford Encyclopedia of Philosophy. Retrieved from: URL = <http://plato.stanford.edu/archives/sum2016/entries/actualism/>.
Metaontology (2014). The Monist (special issue), 97(4).
Owens, J. (1978). The Doctrine of Being in the Aristotelian 'Metaphysics'. Toronto: Pontifical Institute of Medieval Studies.
Priest, G. (2005). Towards Non-Being. The Logic and Metaphysics of Intentionality. Oxford: Oxford University Press. https://doi.org/10.1093/0199262543.001.0001 .
Quine, W.V. (1948). On What There Is. The Review of Metaphysics, 2(1), 21–38.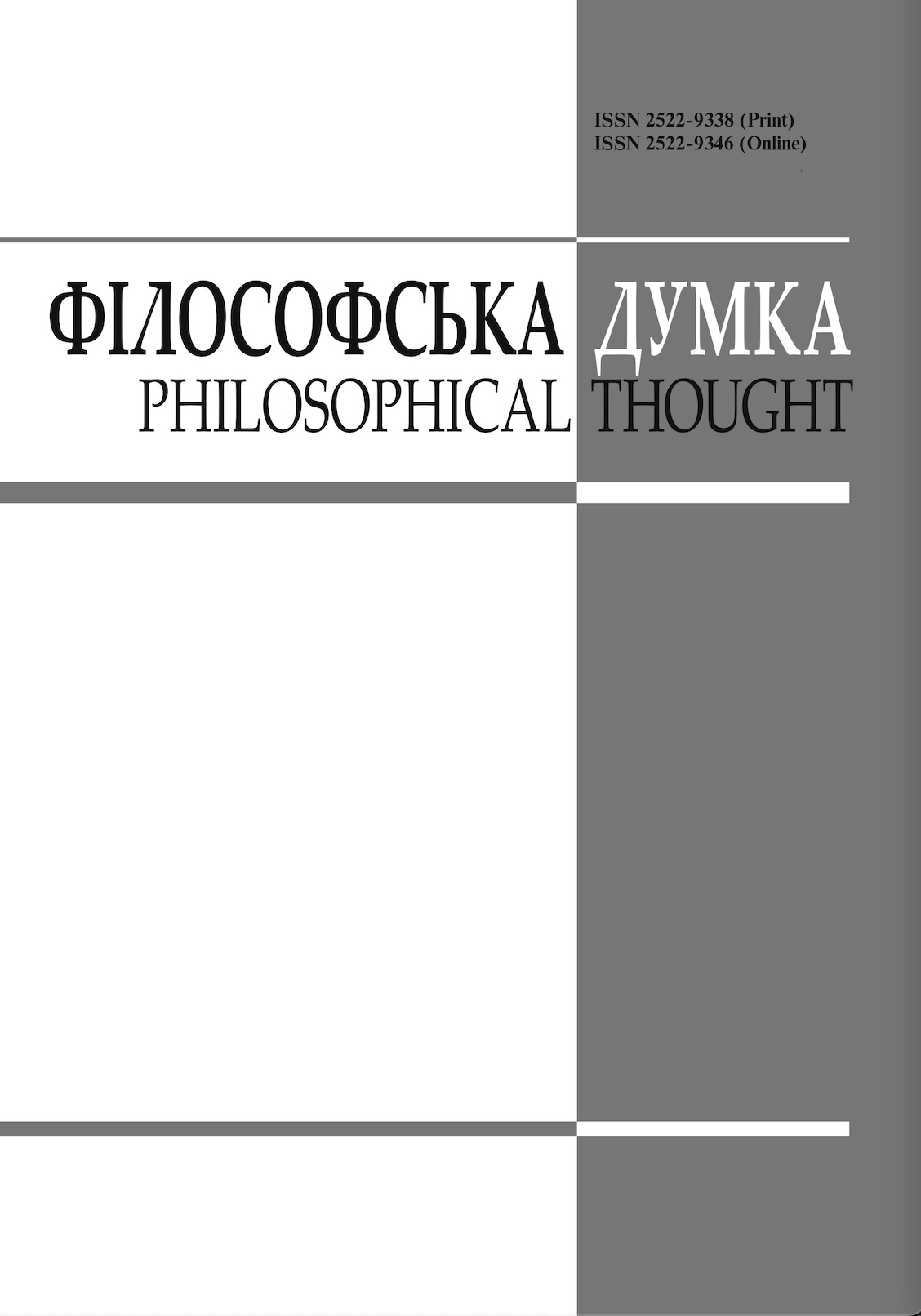 Abstract views: 253
How to Cite
Vasylchenko, A. (2016). Equivocity of being and modal metaontology. Filosofska Dumka, (5), 65–71. Retrieved from https://dumka.philosophy.ua/index.php/fd/article/view/38
License
Authors who publish with this journal agree to the following terms:
Authors retain copyright and grant the journal right of first publication.
Authors are able to enter into separate, additional contractual arrangements for the non-exclusive distribution of the journal's published version of the work (e.g., post it to an institutional repository or publish it in a book), with an acknowledgement of its initial publication in this journal.
Authors are permitted and encouraged to post their work online (e.g., in institutional repositories or on their website) prior to and during the submission process, as it can lead to productive exchanges, as well as earlier and greater citation of published work (See The Effect of Open Access).