First person philosophy
Modern philosophy of mind: prospects for development
Keywords:
philosophy of the first person, philosophy of mind, subject, introjection
Abstract
The report is devoted to the problem of psychological propositions in the first person singular, in which the philosophy of Mind sees evidence of the existence of the subject, Self, Ego, which the speaker, speaking of himself, denotes by the pronoun « I ». Commenting keywords on the texts of Locke, Leibniz, Descartes and James, the speaker reconstructs the theses of the philosophy of Mind and demonstrates its paradoxes. Using the achievements of the linguistic turn in the phi- losophy of mind, in particular, the grammatical reflections of L. Wittgenstein and E. Enscomb, Descombes detects the assumption of a paradox of reflection, the rejection of which leads to its disappearance: the infallibility of psychological utterances in the first person singular is explained not by the cognitive contact of the subject with himself, but by the fact that there is no one who could be wrong, because « I » does not call anyone, « I » is not a name.
References
REFERENCES
Wittgenstein, L. (1995). Philosophical investigations. In: L. Wittgenstein. Tractatus logico-philosophicus. Philosophical investigations (Transl. Ye. Popovych). Kyiv: Osnovy, 87–310.
Descombes, V. (2002). Wittgenstein face au paradoxe de Moore. In: Wittgenstein, Dernières pensées. Sous la dir. de J. Bouveresse, Sandra Laugier, J.J. Rosat. Marseille: Agone. Pp. 207– 235.
Locke, J. (1694). An Essay concerning Human Understanding. 2nd édition. Leibniz, G. (1714). Les Principes de la nature et de la grâce.
Wittgenstein, L. (1958). The Blue Book. Blackwell.
James, W. (1981). The Principles of Psychology [1890]. Harvard University Press. Descartes, R. Principes de la philosophie.
Wittgenstein, L. (1958). The Blue Book. Blackwell.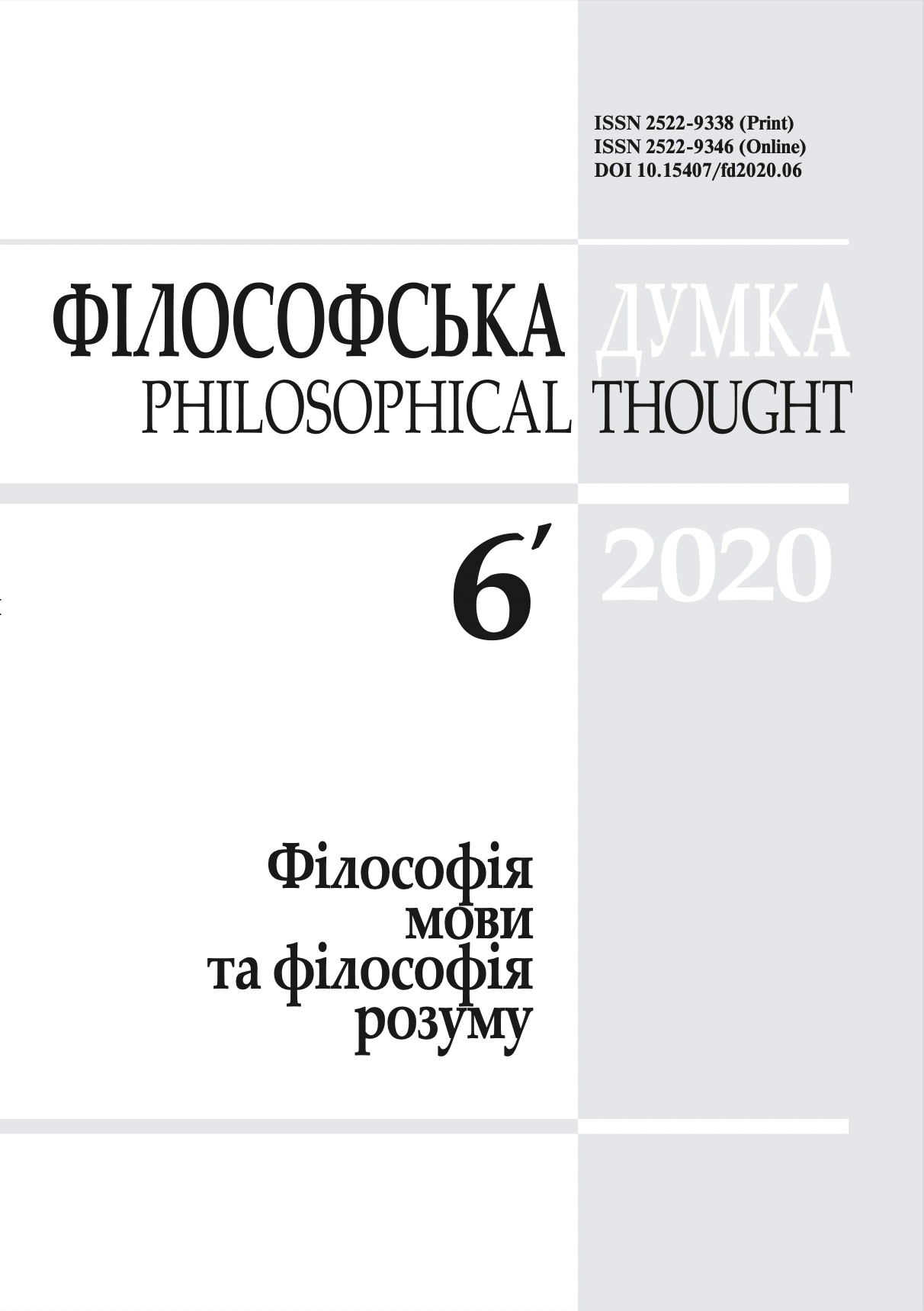 Abstract views: 185
How to Cite
Descombes, V. (2021). First person philosophy: Modern philosophy of mind: prospects for development. Filosofska Dumka, (6), 16–26. Retrieved from https://dumka.philosophy.ua/index.php/fd/article/view/498
Section
TOPIC OF THE ISSUE
License
Authors who publish with this journal agree to the following terms:
Authors retain copyright and grant the journal right of first publication.
Authors are able to enter into separate, additional contractual arrangements for the non-exclusive distribution of the journal's published version of the work (e.g., post it to an institutional repository or publish it in a book), with an acknowledgement of its initial publication in this journal.
Authors are permitted and encouraged to post their work online (e.g., in institutional repositories or on their website) prior to and during the submission process, as it can lead to productive exchanges, as well as earlier and greater citation of published work (See The Effect of Open Access).