UNIFORMITY VS PLURALISM: AN ONTOLOGICAL BASIS OF CONFLICT
COMPETITION OF YOUNG RESEARCHERS FOR THE NELLA IVANOVA-GEORGIEVSKAYA PRIZE
Keywords:
uniformity, pluralism, freedom, modernism, postmodernism, politics, theory of knowledge, ontology, logic, problem of truth, ontological differentiation, phenomenology, consciousness, experience, metaphysics, art, philosophical anthropology, existence
Abstract
The article considers the phenomena of unified and plural rationality, and hence the possibility or its absence to unify experience, culture, politics, economics, etc. To illustrate the problem, it is suggested to consider the differences between the modern and postmodern eras. It is attempted to deduce the ontological basis of cultural differences and the dynamics of knowledge develop- ment in general. Author of the article reflects upon contemporary challenges related to the instability of the state of knowledge, and propose possible solutions of modern social and philosophical problems on the basis of phenomenology.
References
Welsh, W. (2004). Our postmodern modern. [In Ukrainian]. Kyiv: Alterspress. [= Велш 2004] Lyotard, J.-F. (1998). The postmodern condition. [In Russian]. Saint Petersburg: Aletheia.
Lyotard, J.-F. (1994). Answering the question - What is postmodernism? [In Russian]. In: Ad Marginem'93 (pp. 307-323). Moscow.
Aristotle (1997). Nicomachean Ethics. [In Russian]. Moscow, Eksmo-Press.
Heidegger, M. (1963). Sein und Zeit. Tübingen: Max Neimeyer Verlag.
Heidegger, M. (1954). Brief über den Humanismus. Bern: Franke AG.
Husserl, E. (1913). Ideen zu einer reinen Phänomenologie und phänomenologischen Philosophie. Halle: Verlag von Max Niemeyer.
Jaspers, K. (1971). Psychologie der Weltanschauungen. Köln: Springer-Verlag. Jaspers, K. (1948). Philosophie. Berlin: Springer-Verlag.
https://doi.org/10.1007/978-3-642-49688-2
Scheller, M. (2016). Die Stellung des Menschen im Kosmos. Berlin: Karl-Maria Guth.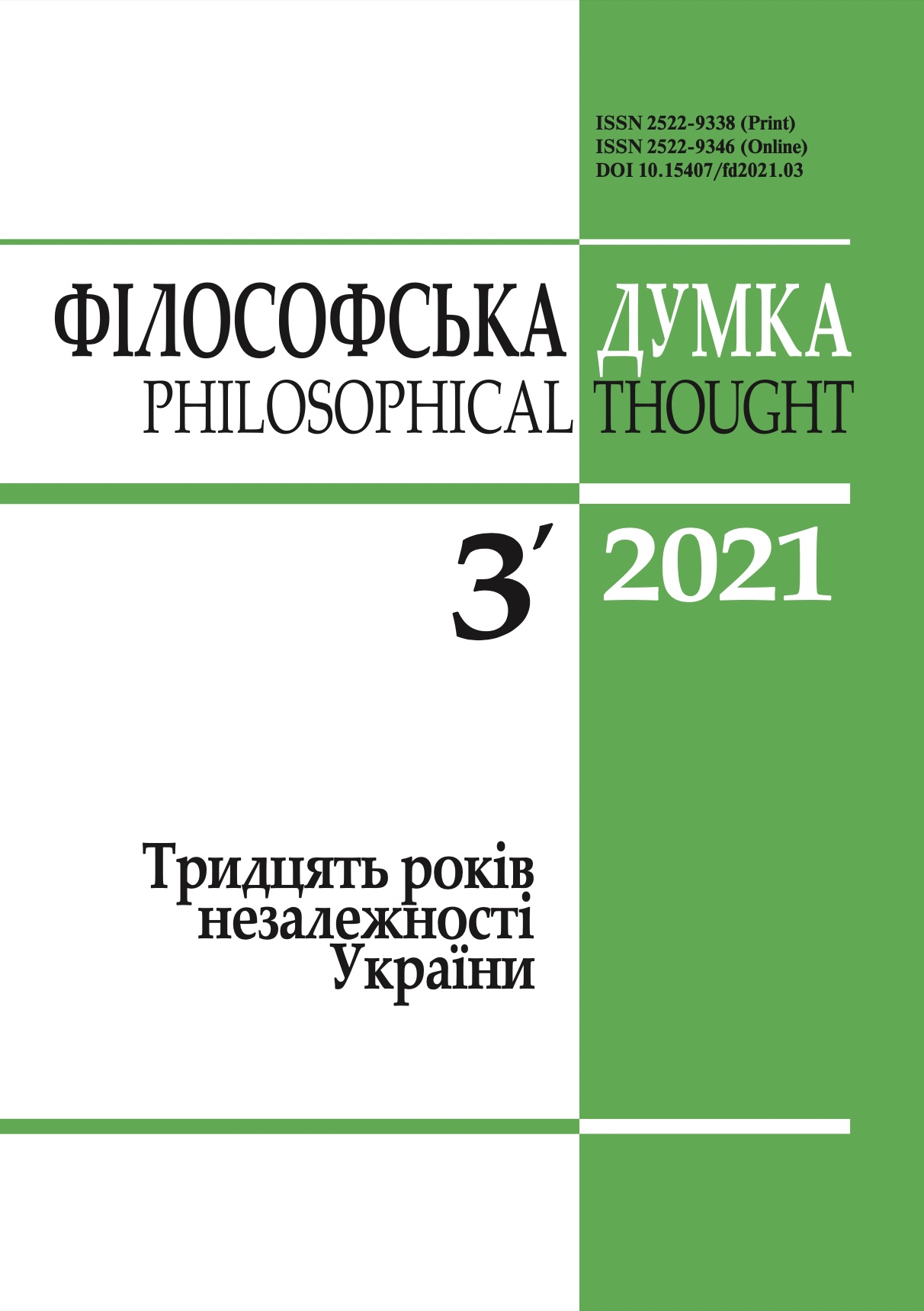 Abstract views: 145
How to Cite
Komarov, O. (2021). UNIFORMITY VS PLURALISM: AN ONTOLOGICAL BASIS OF CONFLICT : COMPETITION OF YOUNG RESEARCHERS FOR THE NELLA IVANOVA-GEORGIEVSKAYA PRIZE. Filosofska Dumka, (3), 166–179. https://doi.org/10.15407/fd2021.03.166
License
Authors who publish with this journal agree to the following terms:
Authors retain copyright and grant the journal right of first publication.
Authors are able to enter into separate, additional contractual arrangements for the non-exclusive distribution of the journal's published version of the work (e.g., post it to an institutional repository or publish it in a book), with an acknowledgement of its initial publication in this journal.
Authors are permitted and encouraged to post their work online (e.g., in institutional repositories or on their website) prior to and during the submission process, as it can lead to productive exchanges, as well as earlier and greater citation of published work (See The Effect of Open Access).