CRITICISM OF THE GUIDELINES OF CARTESIAN PHILOSOPHY BY CH. PIERCE
YOUNG SCIENTIST's PAGE
Keywords:
Descartes, sign, intuition, Peirce, pragmatism, belief, realism, semiotics, synechism, skepticism
Abstract
The article intends to show the significance of Ch. Peirce's ideas for the development of contemporary philosophy, to find out the main directions of his criticism of the principles of Cartesian and more broadly modern philosophy (where it comes from Descartes) and to consider the positive program of his philosophy, which he offers as an alternative to Modern philosophy.
Peirce starts from a pragmatic and semiotic approach to human nature, consciousness and cognition. Thanks to this approach, he managed to undermine the key ideas of the modern understanding of cognition, human, language, namely: individualism, linguistic atomism, dogmatism, dualism, representationism, nominalism, foundationalism, etc. And, instead, to propose a new theory of knowledge, a new ontology and anthropology. Peirce asserts the indirectness of human cognition by signs (linguistic, cultural, sensory), the impossibility of introspection and intuition, advocates holism, fallibilism, pragmatism, realism, synechism, inferentialism and offers a new understanding of the personality — all this makes him a relevant and contemporary thinker.
Peirce's ideas offer a fresh perspective on modern scientific practice. Peirce's rethinking of the foundations of knowledge puts him alongside many thinkers of the 20th and 21st centuries. The development of his ideas can be seen in modern anthropology, epistemology, research on artificial intelligence, semiotics, etc.
The article is divided into four subsections, which are devoted to the main directions of Peirce's criticism of Descartes' philosophy: in the first — against Descartes' skeptical methodology, Peirce puts the concept of fallibilism and the principle of belief, in the second — Peirce denies the possibility of intuition and proves the indirectness of our cognition by signs, in the third — it is about the advantages of the semiotic and communicative approach over individualism and linguistic atomism, in the fourth — Descartes' nominalism and dualism, Peirce contrasts the realist approach and his theory of synechism, as well as semiotic anthropology.
References
Anderson, Douglas (2006). Peirce and Cartesian Rationalism, J. Shook and J. Margolis (Еds.). In: A Companion to Peirce (pp. 154-165). Malden, MA: Blackwell Publishing.
https://doi.org/10.1002/9780470997079.ch15
Bernstein, Richard J. (2010). The Pragmatic Turn. Cambridge Polity Press.
Collected Papers of Charles Sanders Peirce (1931). 8 vols. Charles Hartshorneand and Paul Weiss (Eds.: vol. 1-6). Arthur, W. Burks (Ed.: vols. 7-8). Cambridge: Harvard University Press.
Dabay, T. (2016). Why Peirce's Anti-Intuitionism is not Anti-Cartesian: The Diagnosis of a Pragmatist Dogma. International Journal of Philosophical Studies, 24 (4), 489-507.
https://doi.org/10.1080/09672559.2016.1203981
Deledalle, G (2000). Charles S. Peirce's Philosophy of Signs: Essays in Comparative Linguistics. Indiana UP.
Friedman, L. (1997). Peirce's Reality and Berkeley's Blunders. Journal of the History of Philosophy, 35 (2), 253-268.
https://doi.org/10.1353/hph.1997.0038
Gallie, W.B. (1975). Peirce and Pragmatism. Praeger.
Haack, S. (1982). Descartes, Peirce and the Cognitive Community. Monist, 65 (2), 156-181. Hill, James (2012). Descartes and the Doubting Mind. New York, NY: Continuum.
https://doi.org/10.5840/monist198265214
Khoma, O. (2012). Descartes and Pascal: the path to philosophy against the background of the Grand Siècle [In Ukrainian]. Philosophical thought, 6, 19-38.
MacDonald, Ian (2019). Communal Inferentialism: Charles S. Peirce's Critique of Epistemic Individualism. Waterloo, Ontario.
"Meditations" of Descartes in the mirror of modern interpretations (2014). [In Ukrainian]. Trans. from Fr. and Latin. Kyiv: Duh i litera.
Meyers, Robert (1967). Peirce on Cartesian Doubt. Transactions of the Charles S. Peirce Society, 3 (1), 13-23.
Pearce, T. (2020). Pragmatism's Evolution: Organism and Environment in American Philosophy, Chicago: University of Chicago Press.
https://doi.org/10.7208/chicago/9780226720081.001.0001
Ratnikova, E. (2012). Peirce vs. Descartes: experience and metaphysics. [In Russian]. Sententiae, 27 (2), 85-96.
https://doi.org/10.22240/sent27.02.085
Sebeok, Thomas (1985). Contributions to the Doctrine of Signs, 2nd ed. Lanham: University Press of America.
Sellars, W. (1991). Empiricism and the Philosophy of Mind. In: Science, perception and reality (pp. 127-196). Atascadero, CA.
Short, Т.L. (2007). Peirce's Theory of Signs. Cambridge: Cambridge UniversityPress.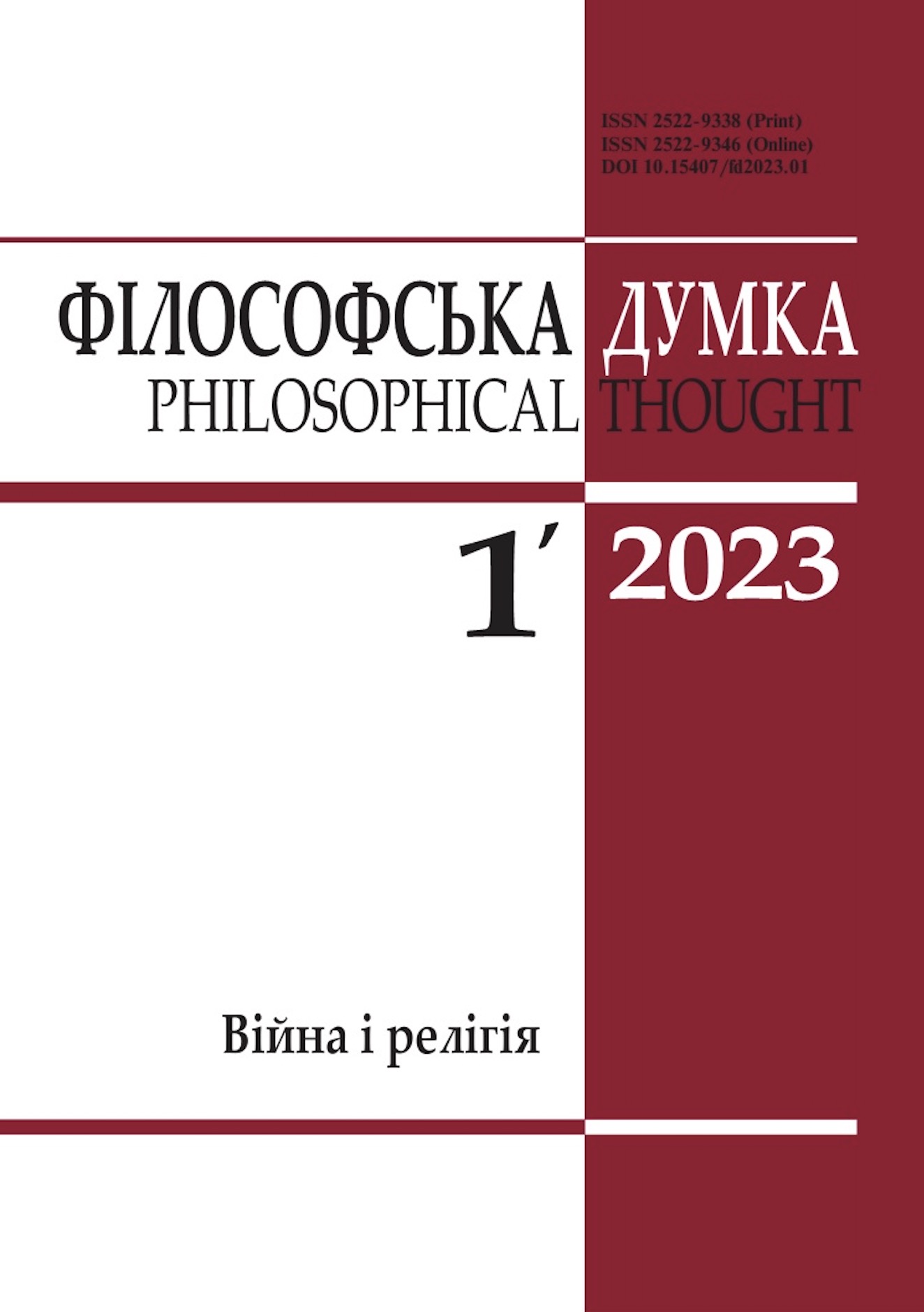 Abstract views: 92
How to Cite
MAMENKO, T. (2023). CRITICISM OF THE GUIDELINES OF CARTESIAN PHILOSOPHY BY CH. PIERCE: YOUNG SCIENTIST's PAGE. Filosofska Dumka, (1), 176–192. https://doi.org/10.15407/fd2023.01.176
License
Authors who publish with this journal agree to the following terms:
Authors retain copyright and grant the journal right of first publication.
Authors are able to enter into separate, additional contractual arrangements for the non-exclusive distribution of the journal's published version of the work (e.g., post it to an institutional repository or publish it in a book), with an acknowledgement of its initial publication in this journal.
Authors are permitted and encouraged to post their work online (e.g., in institutional repositories or on their website) prior to and during the submission process, as it can lead to productive exchanges, as well as earlier and greater citation of published work (See The Effect of Open Access).