Respect vs solidarity: Liberal and communitarian strategies of human rights justification
Keywords:
human rights, morality of law, ontology, liberalism, communitarianism
Abstract
Liberal and Communitarian strategies of human rights justification are investigated in the article as alternative and rooted from different ontological presuppositions. While liberalism stands on the position of "unencumbered subject", which has priority concerning his aims (as individual or collective imposed), Communitarianism stands on the position of "embodied subject", which is always included in social and cultural meaningful context of community. Hence Liberalism considers human rights from universal morality prospects of respect toward each person regardless of cultural and social identity, while Communitarianism explains human rights mostly in terms of civil rights and treats patriotic collective solidarity as a condition of respect. The authors raise the question about horizon of understanding human rights, common for liberalism and communitarianism. Specific morals of law, which presuppose priority of rights toward obligations and derive from understanding of different kind of threats in common human being is considered as such horizon.
References
Арендт Х. Традиция политической мысли // Логос. — 2012. — № 3 (87). — С. 18–35.

Бекенферде Э.-В. Понятие политического как ключ к работам Карла Шмитта по государственному праву // Логос. — 2012. — № 5 (89). — С. 158–176.

Веллмер А. Права людини та демократія // Філософія прав людини. — К.: Ніка-Центр, 2012. — С. 190–213.

Вільдт А. Права людини і моральні права // Філософія прав людини. — К.: Ніка-Центр, 2012. — С. 110–128.

Всеобщая декларация прав человека (официальный текст) // [Электронный ресурс]. — Режим доступа: http://zakon2.rada.gov.ua/laws/show/995_015 (s.a.).

Ґоссепат Ш. До обґрунтування соціальних прав людини // Філософія прав людини. — К.: Ніка-Центр, 2012. — С. 129–162.

Гьоффе О. Політична антропологія — в особливому полі уваги права // Вибрані статті. — К.: Український філософський фонд, 1998.

Дворкин Р. О правах всерьёз. — М.: РОССПЭН, 2004. — 392 с.

Кант И. Идея всеобщей истории во всемирно-гражданском плане. — М.: Чоро, 1994.

Кант И. Метафизика нравов. — М.: Чоро, 1994.

Кант И. Основы метафизики нравов. — М.: Чоро, 1994.

Кимлика У. Современная политическая философия. Введение. — М.: ИД ГУ ВШЭ, 2010. — 592 с.

Локк Дж. Два трактати про врядування. — К., 2001. — 265 с.

Макінтайр Е. Чи є патріотизм чеснотою? // Сучасна політична філософія. — К.: Основи, 1998. — С. 524–543.

Ролз Дж. Теория справедливости. — Новосибирск: Изд-во Новосибирск. ун-та, 1995. — 532 с.

Тейлор Ч. Непорозуміння: дебати між лібералами та комунітаристами // Сучасна політична філософія. — К.: Основи, 1998. — С. 544–575.

Туґендгат Е. Спір про права людини // Філософія прав людини. — К.: Ніка-Центр, 2012. — С. 48–59.

Уолцер М. Философия и демократия // Логос. — 2012. — № 3 (87). — С. 36–59.

Хабермас Ю. Вовлечение Другого. Очерки политической теории. — СПб.: Наука, 2001. — 415 с.

Хабермас Ю. Дополитические основы демократического правового государства? // Между натурализмом и религией. — М.: Весь Мир, 2011. — С. 97–108.

Хабермас Ю. О прагматическом, этическом и моральном употреблении разума // Демократия, разум, нравственность. — М.: ИЦ Academia, 1995. — С. 7–32.

Харт Г.Л.А. Понятие права. — СПб.: Изд-во Санкт-Петербургск. ун-та, 2007. — 302 с.

Харт Г.Л.А. Существуют ли естественные права? // Philosophical Review, 64 (1955) // [Электронный ресурс]. — Режим доступа: http://kant.narod.ru/hart.htm.

Штраус Л. Что такое политическая философия // Введение в политическую философию. — М.: Праксис, 2000. — С. 9–49.

Штраус Л. Естественное право и история. — М.: Водолей-Publisher, 2007. — 312 с.

Шу Г. Права людини та культурні відмінності // Філософія прав людини. — К.: Ніка-Центр, 2012. — С. 254–281.

Cumaraswamy D.P. The Universal Declaration of Human Rights — Is it Universal? // In ter national Commission of Jurists Review. — 1997. — № 58/59. — P. 118–123.

Ford R.T. Universal Rights Down To Erath. — New York: W.W.Norton & Company, 2011. — 141 p.

Rosen M. Dignity. Its History and Meaning. — Cambridge, Massachusetts and London: Harvard University Press, 2012. — 176 p.

Sandel M.J. Justice. What's The Right Thing To Do? — London: Penguin Books, 2009. — 308 p.

Strauss L. The Political Philosophy of Hobbes. — Chicago: The University of Chicago Press, 1984. — 172 p.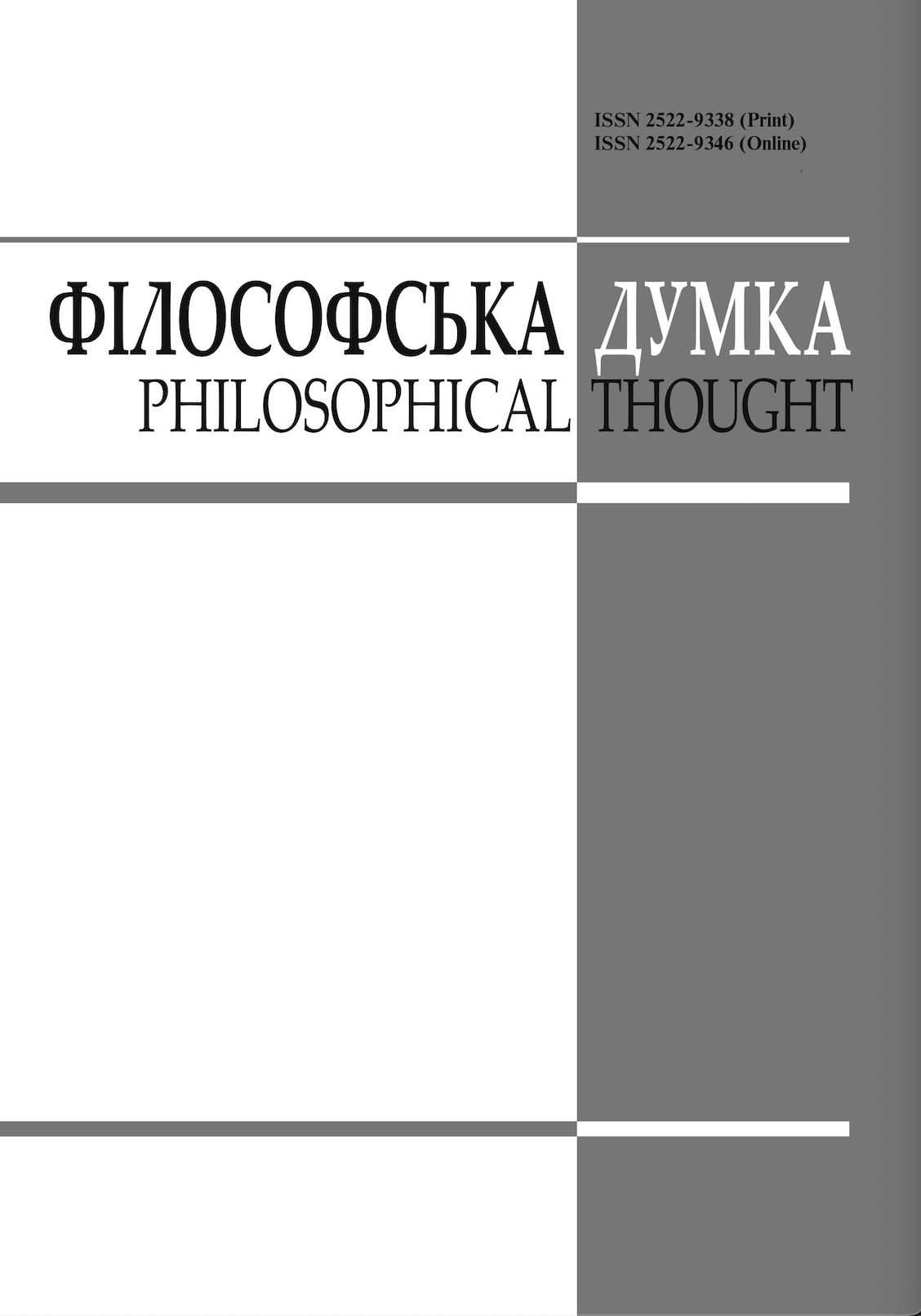 Abstract views: 220
How to Cite
Zymovets, R. (2017). Respect vs solidarity: Liberal and communitarian strategies of human rights justification. Filosofska Dumka, (4), 51–66. Retrieved from https://dumka.philosophy.ua/index.php/fd/article/view/122
License
Authors who publish with this journal agree to the following terms:
Authors retain copyright and grant the journal right of first publication.
Authors are able to enter into separate, additional contractual arrangements for the non-exclusive distribution of the journal's published version of the work (e.g., post it to an institutional repository or publish it in a book), with an acknowledgement of its initial publication in this journal.
Authors are permitted and encouraged to post their work online (e.g., in institutional repositories or on their website) prior to and during the submission process, as it can lead to productive exchanges, as well as earlier and greater citation of published work (See The Effect of Open Access).