Nations as a form of symbolic universes. To the question of the method- ology of the study of modern nationalisms
Current issues of modern political philosophy and ethno-national studies
Keywords:
nation, life world, legitimation, symbolic universe, community, methodology
Abstract
To the question of the methodology of the study of modern nationalisms
Anderson's radical change in the perspective of the studies of nations allow to consider them beyond traditional subjectivation and objectification as imagined communities, standing on the same level as the worldviews of world religions. The article is devoted to clarifying the conditions of such comparison of nations and religions. Anderson himself explained this correlation with the concepts like "cultural artefacts" and "wide cultural systems". These concepts, however, are not very clear and are not provided with an appropriate methodology. The article argues that the juxtaposition of religious and national communities is methodologically grounded through the application of the phenomenological concept of symbolic universes to them. The latter are understood as the comprehensive horizons of meanings that legitimize local lifeworlds. The crite- rion for defining of the symbolic universe is the presence of legitimation of death as the man's most marginalized experience. The application of the concept of symbolic universes to contem- porary communities reveals the ultimate forms of collective identity, the competition between which defines the outlines of actual world politics.
References
Anderson, B. (2016). Imagined Communities. Reflections on the Origin and Spread of Nationa- lism. [In Russian]. Moscow: Kuchkovo pole.
Bauman, Z. (2004). Globalization: The Human Consequences [in Russian]. Moscow: Ves' Mir.
Berger, P.L., Luckman, T. (1995). The social Construction of Reality. A Treatise on sociology of Know- ledge [in Russian]. Moscow: Medium.
Caney, S. (2009). Cosmopolitanism and Justice. In: Contemporary Debates in Political Philosophy (pp. 387-407). Oxford: Blackwell Publishing.
Fukuyama, F. (2018). Identity. Contemporary Identity Politics and the Struggle for Recognition. London.
Habermas, J. (1984). The Theory of Communicative Action. Beacon Press.
Heidegger, M. (2015). Der Begriff der Zeit: Vortag vor Marburger Theologenschaft Juli 1924 [In Russian]. Germeneya. Magazine of philosophical translations, 1 (7), 77-96.
Kholodkovskii, K. (2018). Separatism in Western Europe: a XXI Century Perspective. [In Russian]. South-Russian magazine of social sciences, 19, 2, 27-37.
https://doi.org/10.31429/26190567-19-2-27-37
Koselleck, R. (2006). Zeitschichten. Studien zur Historik [In Ukrainian]. Kyiv: Duch I Litera.
Kymlicka, W. (2011). Multicultural Citizenship. New York: Oxford University Press.
Tibi, B. (2008). Why Can't They be Democratic. Journal of Democracy, 19 (3), 43-48.
https://doi.org/10.1353/jod.0.0002
Toffler, A. (2002). The Third Wave. [In Russian]. Moscow: AST.
Sen, A. (2006). Identity and Violence. The Illusion of Destiny. New York, London.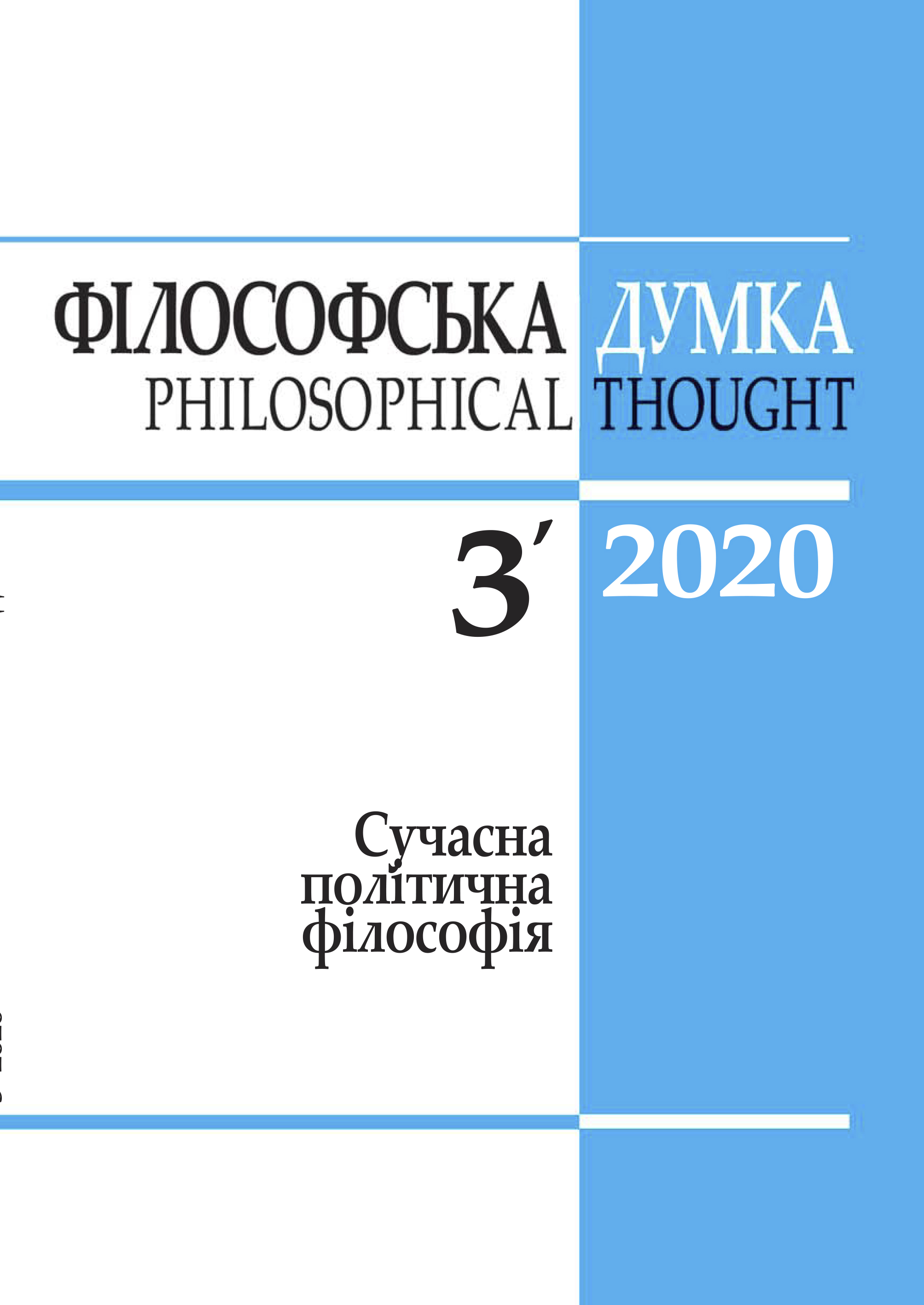 Abstract views: 303
How to Cite
Zymovets, R. (2020). Nations as a form of symbolic universes. To the question of the method- ology of the study of modern nationalisms: Current issues of modern political philosophy and ethno-national studies. Filosofska Dumka, (3), 79–91. https://doi.org/10.15407/fd2020.03.079
Section
TOPIC OF THE ISSUE
License
Authors who publish with this journal agree to the following terms:
Authors retain copyright and grant the journal right of first publication.
Authors are able to enter into separate, additional contractual arrangements for the non-exclusive distribution of the journal's published version of the work (e.g., post it to an institutional repository or publish it in a book), with an acknowledgement of its initial publication in this journal.
Authors are permitted and encouraged to post their work online (e.g., in institutional repositories or on their website) prior to and during the submission process, as it can lead to productive exchanges, as well as earlier and greater citation of published work (See The Effect of Open Access).