Robert Kirk: a Founder of the Phi losophical Zombies
References
Alekseev, A. Yu. (2008). Opredelenie filosofskih zombi. V: Filosofskie nauki, 1, 126–148.
AntologIya suchasnoYi analItichnoYi fIlosofIYi, abo Zhuk zalishaE korobku (2014). L.: LItopis.
Ivanov, D. B. (2013). Priroda fenomenalnogo soznaniya. M.: Knizhnyiy dom «LIBROKOM».
«MeditatsIYi» Dekarta u dzerkalI suchasnih tlumachen: Zhan-MarI Beysad, Zhan-Lyuk Maryon, KIm San On-Van-Kun (2014) (Per. z fr. I lat.). K.: Duh I LItera.
Chalmers, D. (2013). Litsem do litsya z problemoyu svidomosti. V: Aktualni problemi duhov nosti. Kriviy Rig, 14, 121–152 (Pereklad z anglIyskoYi A. Leonova za naukovoyu redaktsIEyu Ya.V. Shramka).
Chalmers, D. (2015). ArGument 1: LogIchna mozhlivIst zombI (pereklad z anglIyskoYi A. Leonova). V: FIlosofska dumka, 2015, 60–67
Kirk, R. (1974a). Sentience and Behaviour. In: Mind, 83, 43–60.
Kirk, R. (1974b). Zombies v. Materialists. In: Proceedings of the Aristotelian Society. 48, 135–152.
Kirk, R. (2003). Zombies. In: Stanford Encyclopedia of Philosophy.
Kirk, R. (2005). Zombies and Consciousness. New York.
Walter, S. (s.a.). Epiphenomenalism. In: Internet Encyclopedia of Philosophy (http://www.iep.utm.edu/epipheno/).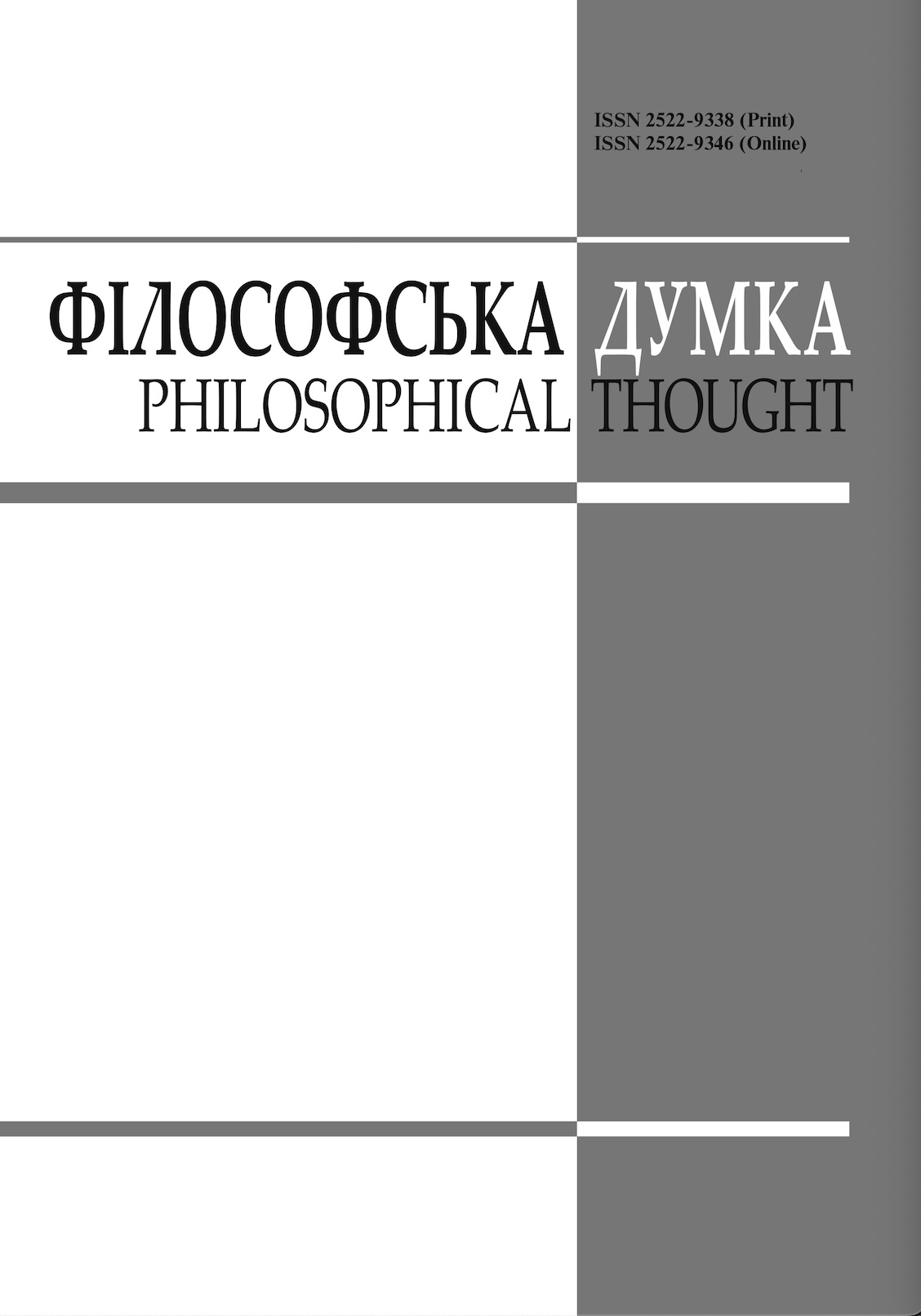 Abstract views: 256
How to Cite
Leonov, A. (2017). Robert Kirk: a Founder of the Phi losophical Zombies. Filosofska Dumka, (2), 71–77. Retrieved from https://dumka.philosophy.ua/index.php/fd/article/view/14
License
Authors who publish with this journal agree to the following terms:
Authors retain copyright and grant the journal right of first publication.
Authors are able to enter into separate, additional contractual arrangements for the non-exclusive distribution of the journal's published version of the work (e.g., post it to an institutional repository or publish it in a book), with an acknowledgement of its initial publication in this journal.
Authors are permitted and encouraged to post their work online (e.g., in institutional repositories or on their website) prior to and during the submission process, as it can lead to productive exchanges, as well as earlier and greater citation of published work (See The Effect of Open Access).