The "public turn" and philosophy in the public space
Keywords:
public turn, turn to public, public philosophy, public humanities, public intellectuals, public space, public discourse, institutionalization of academic disciplines
Abstract
The paper starts a series of articles which are aimed to discover different dimensions of existance of philosophy in the public space. Author analyses the Public turn which occurs in social and human sciences in the early 2000s and analyses its prerequisites and consequences. The typical process of institutionalization of "public" forms of social sciences and humanities and as well as features of this process in the field of philosophy is depicted. The brief digest of existing research and a scope of popular interpretations of public philosophy are presented. Finally, author proposes a draft of an action program which may be implemented to develop this type of philosophical activity in Ukraine.
References
Ackermann, F., Ackermann, J., Littke, A., Nießer, J., Tomann, J. (2011). Diskussion Angewandte Geschichte: Ein neuer Ansatz? Version: 1.0. Docupedia-Zeitgeschichte.
Bellah, R. N. (1985). Habits of the Heart. Individualism and Commitment in American Life: University of California Press.
Borofsky, R. (2000). Public Anthropology. Where to? What Next? Anthropology News, May, 9–10.
Borofsky, R. (2011). Defining Public Anthropology. Center for Public Anthropology, 11.05.2011. — http://www.publicanthropology.org/public-anthropology/.
Burawoy, M. (2005). For Public Sociology. American Sociological Association Presidential
Ad dress (2004). American Sociological Review, 1, Vol. 70 , 4–28.
Gans, H. J. (1989). Sociology in America: the discipline and the public. American Sociological Association, Presidential Address (1988). American Sociological Review, Vol. 54, 1–16. https://doi.org/10.2307/2095658
Gans, H. J. (2002). More of Us Should Become Public Sociologists. Footnotes: Newsletter of The American Sociological Association, July-August.
Hausknecht, M., Burawoy, M. (2003). Models of Public Sociology: Hausknecht vs. Burawoy. Footnotes: Newsletter of The American Sociological Association.
Lee, S. P., Cohen, E. D. (2008). Is Public Philosophy Possible? International Journal of Applied Philosophy, 1, Vol. 22 , 13–18.
Lippmann, W. (1955). Essays in the Public Philosophy: Little, Brown.
Littmann, G. (2014). Writing Philosophy for the Public is a Moral Obligation. Essays in Philosophy, 1, Т. 15. https://doi.org/10.7710/1526-0569.1492.
Mathieu, P. (2005). Tactics of hope. The public turn in English composition. Portsmouth, NH: Boynton/Cook Publishers.
Murphy, A. B. (2006). Enhancing Geography's Role in Public Debate. Annals of the Association of American Geographers, 1, Т. 96 , 1–13. https://doi.org/10.1111/j.1467-8306.2006.00495.x
Murphy, A. B., Blij, H. d., Turner, B. L., II, Gilmore, R. W., Gregory, D. (2005). The role of geography in public debate. Progress in Human Geography, 2, Т. 29 , 165–193. https://doi.org/10.1191/0309132505ph538oa
Nickel, P. M. (2010). Public Sociology and the Public Turn in the Social Sciences. Sociology Com pass, 9, Т. 4 , 694–704. https://doi.org/10.1111/j.1751-9020.2010.00319.x
Selznick, P. (2008). A Humanist Science. Values and Ideals in Social Inquiry: Stanford University Press. https://doi.org/10.11126/stanford/9780804758628.001.0001
van Seters, P. (2010). From Public Sociology to Public Philosophy. Lessons for Law and Society. Law & Social Inquiry, 4, Т. 35 , 1137–1154. https://doi.org/10.1111/j.1747-4469.2010.01219.x
Weinstein, J. R. (2014). Public Philosophy. Introduction. Essays in Philosophy, 1, Т. 15 , 1–4.
Whitley, R. (1974). Cognitive and social institutionalization of scientific specialities and research areas. R. Whitley (Ed.). Social Process of Scientific Development, 69–95.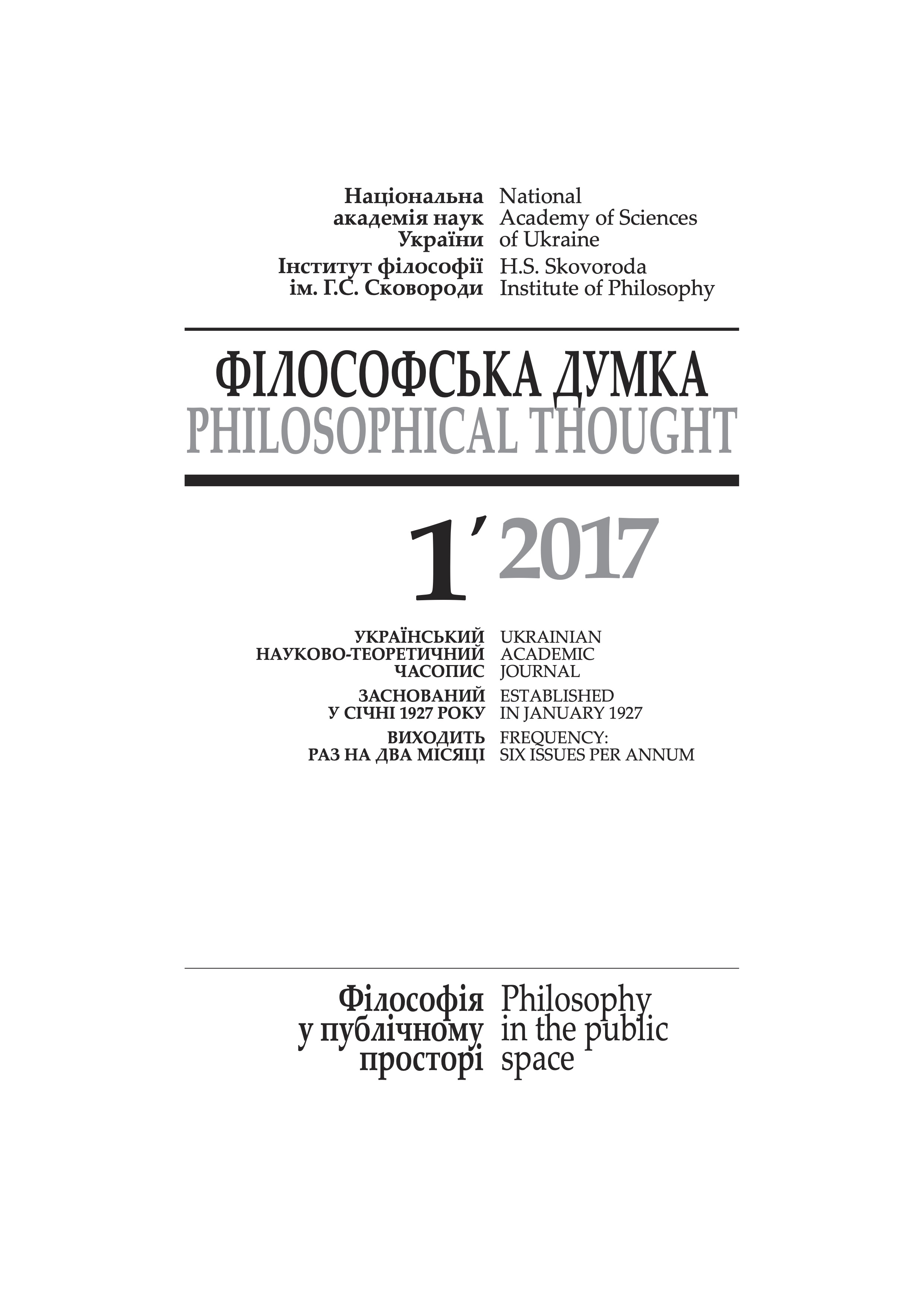 Abstract views: 311
How to Cite
Yasna, I. (2017). The "public turn" and philosophy in the public space. Filosofska Dumka, (1), 28–41. Retrieved from https://dumka.philosophy.ua/index.php/fd/article/view/263
Section
TOPIC OF THE ISSUE
License
Authors who publish with this journal agree to the following terms:
Authors retain copyright and grant the journal right of first publication.
Authors are able to enter into separate, additional contractual arrangements for the non-exclusive distribution of the journal's published version of the work (e.g., post it to an institutional repository or publish it in a book), with an acknowledgement of its initial publication in this journal.
Authors are permitted and encouraged to post their work online (e.g., in institutional repositories or on their website) prior to and during the submission process, as it can lead to productive exchanges, as well as earlier and greater citation of published work (See The Effect of Open Access).