Philosophy of Vasyl Lisovyi in the context of current philosophic studies
Keywords:
Vasyl Lisovyi, Kant, Wittgenstein, practical philosophy, national identity, Universal values, dialogue of cultures
Abstract
The essay is devoted to Vasyl Lisovyi — an outstanding figure in the present Ukrainian culture and philosophy. Being an adherent of Kant's science of mind and sensitive to paradigm changes V. Lisovyi has evolved from "early" to "late" Wittgenstein and joined "rehabilitation of practical philosophy" as the discourse practice. His work over a manual Principles of Modern Philosophy was directed to representation of paradigm changes and main tendencies of the world philosophical thought. Being a prominent enlightener Lisovyi worked over the projects of new works by Dmytro Chyzhevskyi and anthologies Political Ideologies, a collection of Ukrainian translations of leading representatives of socio-political thought. As to the problems of national identities and universal values, Lisovyi was the adherent of a dialogue of persons, citizens, countries, peoples and cultures and criticized the applying of "Eurasian" measures to Ukrainian culture, defended a necessity to "inscribe" himself in the context of Mediterranean-European cultural tradition. His creative work and life are an example of thinking and action, value orientation of development of the present philosophic thought, formation of political culture and civil society as the political nation in Ukraine
References
Lisovyi, V.S. (1997). Kultura — ideolohia — polityka [Culture — ideology — policy]. Vydavnytstvo imeni Oleny Telihy, Kyiv, Ukraine.

Lisovyi, V. (2014). Spohady. Poezii [Recollections. Poetry]. Smoloskyp, Kyiv, Ukraine.

Lisovyi, V. (2007). U bahatoholossi politychnykh dyskussii: Statti ta intervyu [In polyphony of political discussions: Articles and interview], Vydavnychyi dim "Kyievo-Mohylyanska aka -de mia", Kyiv, Ukraine.

Konservatizm: Antolohia [Conservatism: Anthology] (1998). Compilers: O. Protsenko, V. Lisovyi. Smoloskyp, Kyiv Ukraine.

Böhler, D. (1988). Die deutsche Zerstöhrung des politisch-ethischen Universalismus. Über die Gefahr des — heute (post-) modernen — Relativismus und Dezisionismus. In: Zerstöhrung des moralischen Selbstbewustseins: Schance oder Gefärdung? Praktische Philosophie in Deutschland nach dem Nationalsozialismus. Hrsg. von Forum für Philosophie, Bad Homburg. Frank furt am Main: Suhrkamp.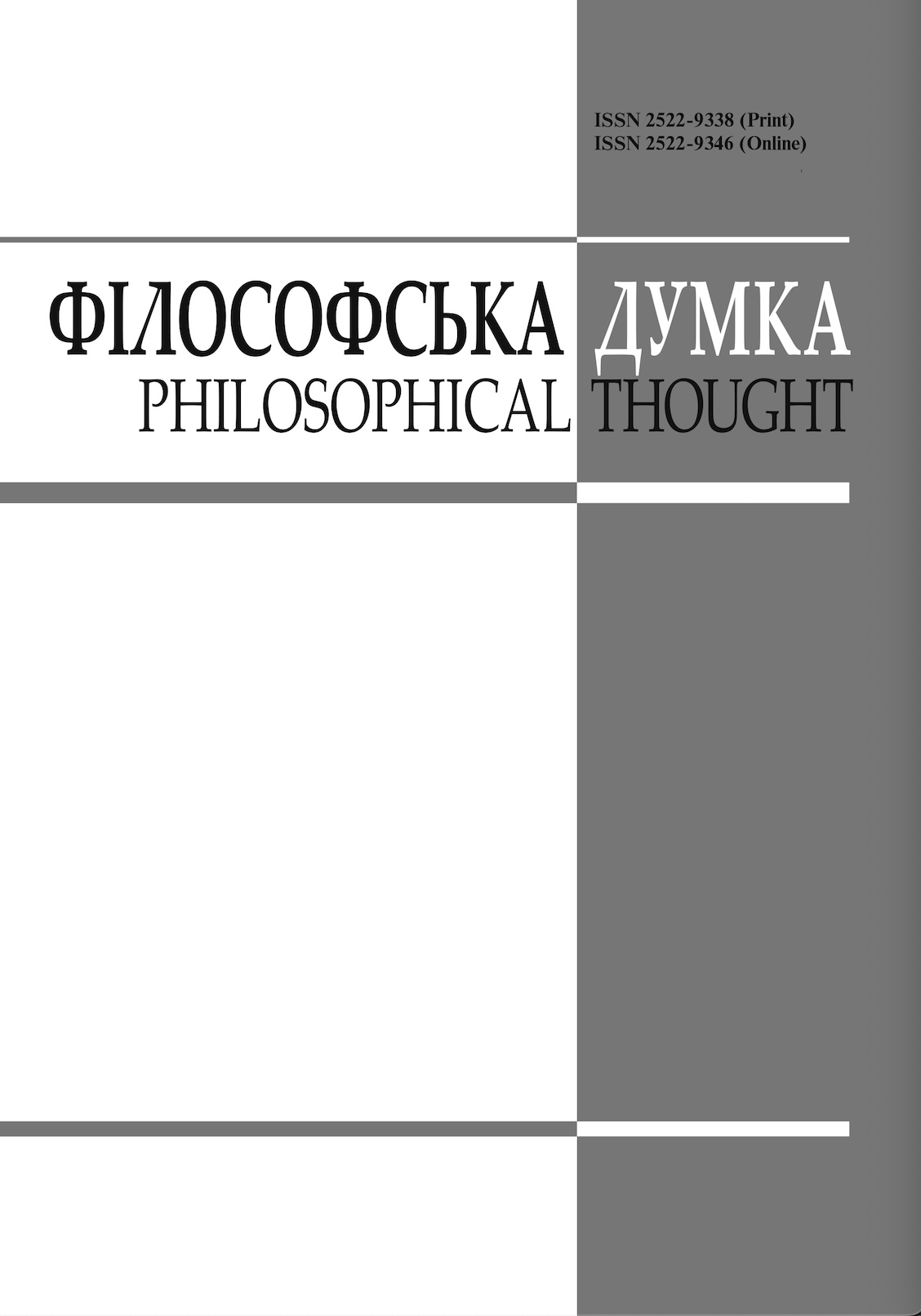 Abstract views: 355
How to Cite
Yermolenko, A. (2017). Philosophy of Vasyl Lisovyi in the context of current philosophic studies. Filosofska Dumka, (6), 87–98. Retrieved from https://dumka.philosophy.ua/index.php/fd/article/view/58
License
Authors who publish with this journal agree to the following terms:
Authors retain copyright and grant the journal right of first publication.
Authors are able to enter into separate, additional contractual arrangements for the non-exclusive distribution of the journal's published version of the work (e.g., post it to an institutional repository or publish it in a book), with an acknowledgement of its initial publication in this journal.
Authors are permitted and encouraged to post their work online (e.g., in institutional repositories or on their website) prior to and during the submission process, as it can lead to productive exchanges, as well as earlier and greater citation of published work (See The Effect of Open Access).