World-view approach in the system of paradigm coordinates
Keywords:
Kyiv philosophical circle, world-view function of philosophy, philosophy as a meta-theory, communicative turn in philosophy
Abstract
The thesis that philosophy will further perform its world-view function is substantiated in the article, but the world-view approach cannot be used as a paradigm for scientific community, including Kyiv philosophical circle, because of the communicative turn in contemporary philosophy. One should not construct world-views, but should reflect in the open discourse on the coherence of presented arguments used for research of the world. Thanks to the principle of discourse philosophy serves as a meta-theory for other sciences integrating together natural sciences and humanities and uniting theory and practice on this argumentative basis.
References
Бьолер Д. Відповідальність за майбутнє з ґлобальної перспективи. Актуальність філософії Ганса Йонаса та етики дискурсу / Пер. з нім., післямова, примітки А. Єрмоленка. — К.: Стилос, 2014.

Валіцький А. Марксизм і стрибок у царство свободи. Історія комуністичної утопії / Пер. з польськ. П. Андрухова. — К.: Всесвіт, 1999.

Габермас Ю. Єдність розуму в розмаїтті його голосів // Єрмоленко А.М. Комунікативна практична філософія: Підручник. — К.: Лібра, 1999.

Габермас Ю. Про суб'єкта історії. Деякі міркування щодо хибних альтернатив // Єрмоленко А.М. Комунікативна практична філософія. — К.: Лібра, 1999.

Гардашук Т.В. Концептуальні параметри екологізму. — К.: Парапан, 2005.

Гельдерлін Фр. Патмос // Поезії. — К.: Дніпро, 1982.

Горак А. Сорок сороків.– К.: Стилос, 2009.

Єрмоленко А. Єдність знання у світлі дискурсивної критики світоглядного підходу // Філософсько-антропологічні читання: творча спадщина В.І.Шинкарука та сьогодення. Ч.І. Вип.4. Філософські діалоги'2010. — К.: Інститут філософії ім. Г.С. Сковороди, 2010a.

Єрмоленко А. Соціальна етика та екологія. Гідність людини — шанування природи. — К.: Лібра, 2010b.

Кисельов М.М., Канак Ф.М. Національне буття серед екологічних реалій. — К.: Тандем, 2000.

Лісовий В. Спогади. Поезії. — К.: Смолоскип, 2014.

Лук'янець В.С., Кравченко О.М., Озадовська Л.В., Мороз О.Я. Науковий світогляд на зламі століть: Монографія. — К.: Парапан, 2006.

Маркс К. Економічно-філософські рукописи 1844 р. // Маркс К., Енгельс Ф. Твори. — Т.42. — К.: Політвидав України, 1980.

Табачковський В. У пошуках невтраченого часу. Нариси про творчу спадщину українських філософів-шістдесятників. — К.: Парапан, 2002.

Маєр-Абіх К.М. Повстання на захист природи. Від довкілля до спільносвіту / Пер. з нім., післямова, примітки А.Єрмоленка. — К.: Лібра, 2004.

Anders G. Die Antiquiertheit des Menschen. Band I. Über die Seele im Zeitalter der zweiten industriellen Revolution. — München: Beck, 1956.

Apel K.-O. Die transzendental-pragmatische Begründung der ethischen Grundnormen und іhr Verhältnis zu den kritisch-rekonstruktiven Sozialwissenschaften // Sprachtheorie und transzendentale Sprachpragmatik zur Frage ethischer Normen. Auseinandersetzungen in Er probung des transzendentalpragmatischen Ansatzes. — Frankfurt am Main: Suhrkamp, 1998.

Apel K.-O. Transzendentale Semiotik und die Paradigmen der ersten Philosophie (Erster Vortrag) // Apel K.-O.,Hösle V., Simon-Schaefer R. Globalisierung. Herausforderung für die Phi losophie. — Bamberg: Universitäts-Verlag, 1998.

Apel K.-O. Nichtmetaphysische Letztbegründung? // Nachmetaphysische Philosophie. — Köln, 1990.

Bayertz K. Ökologie als Medizin? Überlegungen zum Theorie-Praxis-Problem in der Ökologie // Ökologische Ethik (hrsg. von K.Bayertz). — München, Zürich: Verlag Schnell&Steiner, 1988.

Böhler D. Rekonstruktive Pragmatik. Von der Bewußtseinsphilosophie zur Kom mu ni ka tion srefle xion: Neubegründung der praktischen Wissenschaften und Philosophie. — Frankfurt a. M: Suhrkamp, 1985.

Böhme G. Die Natur vor uns. Naturphilosophie in pragmatischer Hinsicht. — Zug: Die graue Edition, 2002.

Esfeld M. Holismus in der Philosophie des Geistes und in der Philosophie der Physik. — Frankfurt am Main: Suhrkamp, 2002.

Habermas J. Nachmetaphysisches Denken. Philosophische Aufsätze. — Frankfurt am Main: Suhrkamp, 1988.

Markl H. Natur als Kulturaufgabe. Über die Beziehung des Menschen zur lebendigen Natur. — Stuttgart: Deutsche Verlags-Anstalt, 1986.

Mayer-Abich K.M. Dreißig Thesen zur praktischen Naturphilosophie // Ökologische Probleme im kulturellen Wandeln. — München: Wilchelm Fink Verlag / Ferdinand Schöningh, 1986.

Meyer-Abich K.M. Wissenschaft für die Zukunft — Holistisches Denken in ökologischer und gesellschaftlicher Verantwortung. — München: Beck, 1988.

Rahner K. Über die intellektuelle Geduld mit sich selbst // Toleranz. Tübinger Universitätsreden. Bd. 31 (Hrsg. P.Stuhlmacher) — Tübingen: Attempto-Verlag, 1982.

Riedel M. (Hrsg.) Rehabilitierung der Praktischen Philosophie. B.1. Geschichte — Probleme — Aufgaben. — Freiburg: Verlag Rombach, 1972. — 584 S.

Sitter B. Vielfalt der Weltanschauungen macht Konsens schwierig. — Katholische Internationale Presseagentur (Kipa). — Bern, 1.8.2001.

Tugendhat E., Wolf U. Logisch-semantische Propedeutik. — Stuttgart: Reclam, 1988.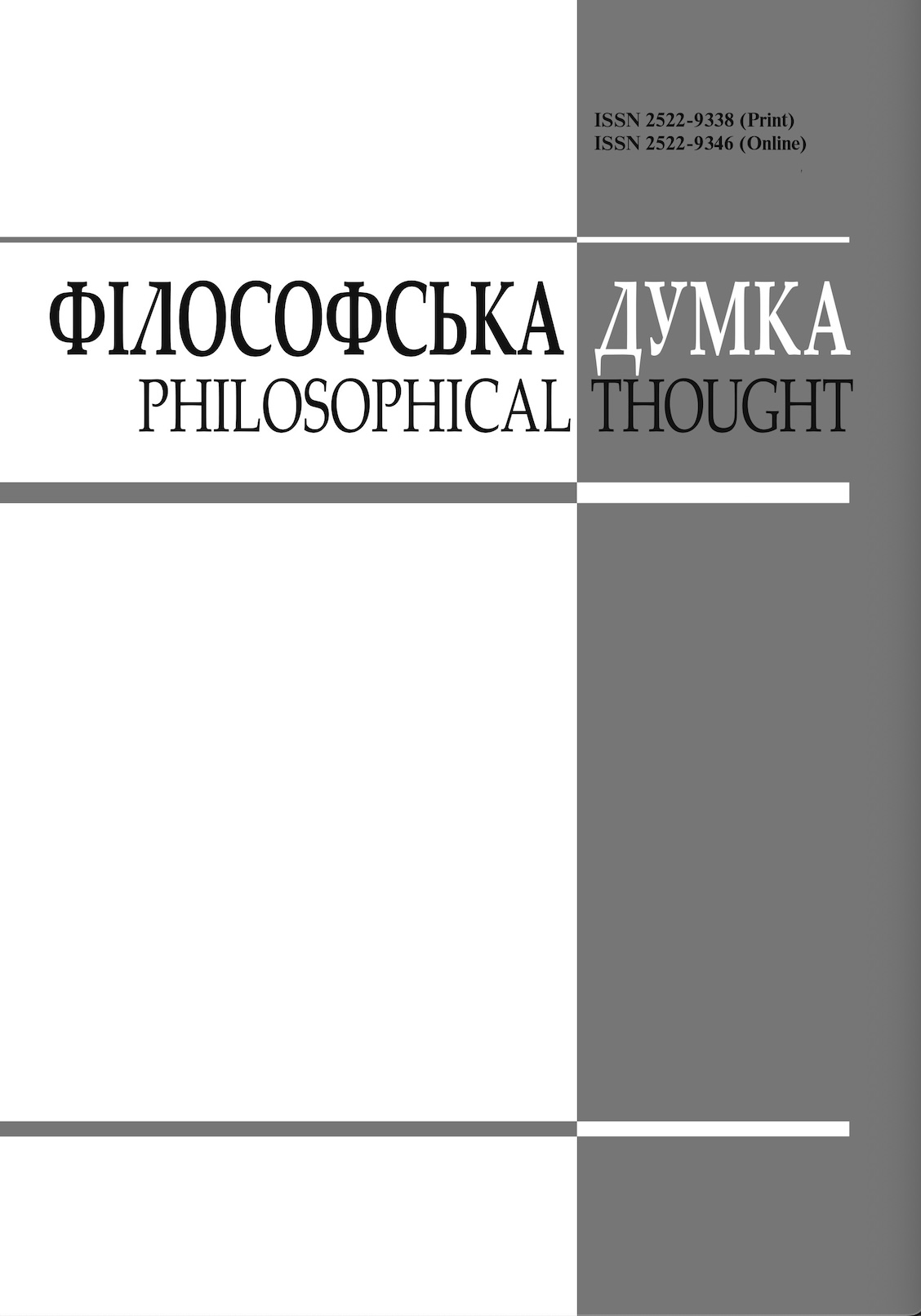 Abstract views: 342
How to Cite
Yermolenko, A. (2017). World-view approach in the system of paradigm coordinates. Filosofska Dumka, (3), 62–76. Retrieved from https://dumka.philosophy.ua/index.php/fd/article/view/157
License
Authors who publish with this journal agree to the following terms:
Authors retain copyright and grant the journal right of first publication.
Authors are able to enter into separate, additional contractual arrangements for the non-exclusive distribution of the journal's published version of the work (e.g., post it to an institutional repository or publish it in a book), with an acknowledgement of its initial publication in this journal.
Authors are permitted and encouraged to post their work online (e.g., in institutional repositories or on their website) prior to and during the submission process, as it can lead to productive exchanges, as well as earlier and greater citation of published work (See The Effect of Open Access).